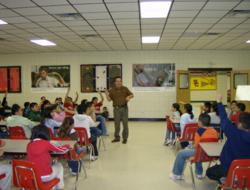 92% of recovering addicts believe that anti-drug education would not have been effective in preventing drug abuse...
(PRWEB) August 09, 2012
A recent survey conducted by Narconon Riverbend indicates that, among recovering addicts, 92% believe that even if they had received anti-drug education prior to using drugs, they would have used them anyway. This dramatic majority speaks to the perceived inefficacy of drug education as it existed up until very recently in our country.
For many people, it seems that the "DARE" (Drug Abuse Resistance Education) program did more harm than good. It suffered low success rates, according to a Time magazine article, and witnessed a backlash due to its use of preachy tone and hyperbolic exaggerations that depicted drugs as all having the same effect (usually the death of the user). The program even admitted its lack of success following a 2003 study which found no major difference in rates of illegal drug use among students who had received DARE classes and those who had not.
Thankfully, drug-abuse prevention education began to be significantly revised from 2003-on. The Surgeon General's Office lists a number of drug-abuse prevention initiatives currently on offer to schools, among which "DARE" is just one of many.
Let's hope that these programs succeed in communicating to kids the very real actual dangers of drug abuse, and that these drug abuse solutions succeed where their preachy predecessors could not.

Narconon Riverbend's survey was conducted on addicts seeking treatment, and, with the sample size used, there is a 12.5% margin of error.