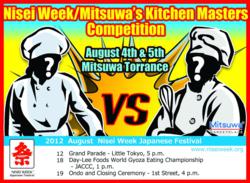 Torrance, California (PRWEB) August 09, 2012
A surprise guest appearance from Japanese Iron Chef French Hiroyuki Sakai added an extra element of delight to the event for participants and guests. Mitsuwa Marketplace, the largest Japanese supermarket in the US, gathered the creme de la creme of California's executive chefs, all of whom have been recognized as top chefs in various competitions throughout the country, to compete in the two-day competition. UTB, Japanese television channel broadcast the event live.
Chef and Owner Kimmy Tang of Beverly Hills restaurant 9021PHO proved victorious in the Nisei Week/Mitsuwa – Kitchen Masters Competition (which kicked off the 72nd Nisei Week Japanese Festival), taking the 'Kitchen Master' title. Tang defeated Garrett Mukogawa, executive chef of Enoteca Drago, in a head-to-head battle of culinary artistry.
The competitors battled over two days in several culinary heats in the state-of-the art Mitsuwa demonstration kitchen, only learning about their secret ingredients — King's Hawaiian Bread and Wasabi root — seconds before the start of each round. Tang wowed the panel of four judges: Noritoshi Kanai, president of Mutual Trading Company, Deputy Chief of Los Angeles Police Department (LAPD) Terry Hara, reigning Nisei Week Queen Erika Mariko Olsen, and model/singer Gina Hiraizumi — with her Asian/French influenced dishes sprinkled with a little Southern Californian style. Her winning menu featured Tonkatsu Cordon Bleu, a pork panko schnitzel stuffed with cheese and apple, garnished with mango-wasabi chutney; Tokyo Snapper Factor with mango, basil, asparagus and wasabi sauce; and Peachy Keen Peach, a peach poached in sake and mirin with a strawberry, blackberry, and coconut sauce.
The $1,000 cash prize awarded to Chef Tang was generously donated to H.A.R.K. (Healing Arts Reaching Kids), a charity she passionately supports.
"I'm so honored to be in a competition with such extreme talent. The opportunity to be a part of this great event with Mitsuwa and Nisei Week really brought out the best in all of us," Tang said.
Held every summer, this year's Nisei Week Japanese Festival showcased free Japanese cultural events, activities and exhibits, including music and entertainment, food and fun games for all age groups in Little Tokyo. Partnering with the Nisei Week Foundation for the first annual "Kitchen Masters" competition was the perfect opportunity to show Mitsuwa's strong commitment to promoting Japanese culture and cuisine within the community.
"We are delighted to be involved with the Nisei Week Foundation and create an exciting, challenging event for the great culinary talent in our community," commented Bruce Bailey, President of Mitsuwa Marketplace. "We are confident that this partnership to produce the "Kitchen Masters" competition will get bigger and better each year."
About Mitsuwa Marketplace
Mitsuwa Marketplace is the largest Japanese supermarket chain in America offering a variety of Japanese groceries for experiencing the many "flavors of Japan" to Japanese and American customers. Mitsuwa carries over 1 million unique items from Japan and features the best of specialty Japanese food producers and has exclusives on many of the item they carry due to their close relationships with the small artisan producers. Founded in 1998, Mitsuwa has nine stores in the US, including California, Chicago and New Jersey. Each of the stores has various retail stores and restaurants onsite and collectively, they employ approximately 600 people.
About Nisei Week Foundation
Nisei Week was established in 1999 as a 501(c)(3) nonprofit organization to oversee and organize the Nisei Week Japanese Festival. The Foundation's mission is to promote Japanese and Japanese American heritage and traditions while bringing together the diverse communities of Southern California through arts and cultural education. It does this by producing the Nisei Week Japanese Festival, a nine-day event that is one of the longest running ethnic festivals in the United States.