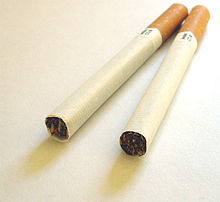 A recent survey reveals that nearly 70% of recovering addicts smoked cigarettes first...
Denham Springs, LA (PRWEB) August 11, 2012
Among psychiatric experts, the consensus seems to be that such a thing as an "addictive personality" does not exist. The human psyche is far too complex and the factors involved in addiction too varied, experts say, for the phenomenon to be explained with this simple catch-all. But, there may well be tendencies toward engaging in other addictive behaviors among recovering addicts.
According to a recent survey conducted by Narconon Riverbend, 68.75% of recovering addicts had smoked cigarettes prior to beginning drug use, while 31.25% had not. While the number who had smoked does constitute a majority, it's not an entirely overwhelming one. This data makes sense, since some of the same "rewards circuits" of the brain are stimulated by smoking tobacco as by abusing many other (illegal) drugs, according to Wikipedia. Smoking causes dopamine and endorphins, both of which are responsible for smoking's pleasurable sensation, to be released by the brain. These same neurochemicals are the cause of many drugs' "highs." The mechanisms of addiction to tobacco are similar to those of other drugs as well. When one consumes tobacco frequently enough, the brain compensates by altering one's natural level of energy or mood. For this reason, smokers feel the need to smoke simply in order to feel "normal" again, according to information from the Canadian Ministry of Health.
As any recovering drug abuser can tell you, it's this cycle of requiring a "fix" in order to attain a "normal" state which becomes so very hard to break. But returning to genuine normalcy by overcoming addiction is something worth fighting for.

Narconon Riverbend is a drug rehab in Louisiana. Narconon Riverbend's survey was conducted on addicts seeking treatment, and, with the sample size used, there is a 12.5% margin of error.