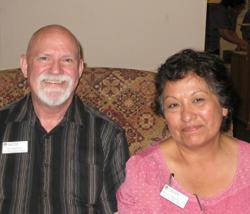 Ed Carr, RN joins Anetta Townsend, LPN, as the Resident Care Team Leaders at Daystar.
West Seattle, Washington (PRWEB) August 10, 2012
Daystar Retirement Village, a Seattle Retirement Community, today announces the hiring of Ed Carr, RN as Director of Resident Services
"I'm very excited for this opportunity to offer care to Daystar residents," said Carr. "Many people have given me so much in life that it seems natural to pass that on to others who are in need."
Carr joins Anetta Townsend, LPN, Care Compliance Manager, as the Resident Care Team Leaders at Daystar. Together, the two have nearly 80 years of experience as professional caregivers. Each is unique in their own way and both have strong expertise in offering the greatest care and treatment available for an assisted living retirement community.
Carr has more than 38 years of experience in hospital nursing, home health and Hospice work, staff development, adolescent and adult psychiatry and medical software consulting.
"His depth in nursing practice provides a solid foundation as the Director of Resident Services," said Wanda Daudet, Executive Director of Daystar.
Ed received his Associates in Mental Health/Human Services from the University of Southern Colorado, Pueblo, CO and his Bachelors of Science in Nursing from the University of Louisville, Louisville, KY.
He was raised in a small mountain town in Colorado and graduated from high school in Pueblo, Colorado. He has lived in Oregon, California and Kentucky but Seattle is home now. He has worked with seniors for several years and enjoys the richness of working with people who have lived history and who still have so much to offer.
About Daystar Retirement Village
Located in West Seattle across from the Westwood Village shopping center, Daystar Retirement Village is family owned and operated Offering both independent and assisted living options, Daystar makes it easy to live your life at your own rate. Our quality of life is complimented by our safe, family atmosphere where every day moves at your own desired pace. The tremendous natural beauty, active lifestyle and caring staff are just a few of the reasons many people call Daystar home. Pets welcome.
For more information, call 206.937.6122 or visit http://www.daystarseattle.com.