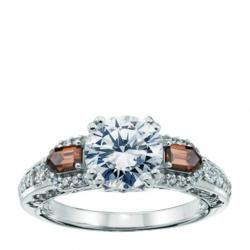 Customers can purchase any Lorian Platinum rings at 15% off, using coupon code LORPLAT15
(PRWEB) August 08, 2012
"For the next 24 hours, Diamond Nexus customers can purchase any Lorian Platinum rings at 15% off, using coupon code LORPLAT15. We love our Facebook fans and we wanted to extend a very special sale on some of our most popular rings," commented Jennifer London, Social Media Coordinator.
"Through the Diamond Nexus Facebook page, we connect with literally thousands of people every week and we have developed a fantastic relationship with them all. This is just our way of giving back and saying thanks!" London continued.
The 24 hour sale begins Aug. 8, 2012 and ends on Aug. 9, 2012 at midnight. Coupon code LORPLAT15 can be used online, in stores or by calling 1-800-509-4990 and speaking with a customer service representative.
Diamond Nexus was founded in 2004 with the purpose of bringing to the public the powerful benefits of the lab-created diamond simulant revolution. They have over 250,000 customers worldwide that have awarded them an "A+" rating with the BBB, and are the ninth largest online jewelry retailer in America according to the 2011 IR500 list. For two years in a row brides from The Knot have selected them as their Best of Jeweler. Diamond Nexus currently has two retail locations: their flagship store at Woodfield Mall in suburban Chicago, Illinois, and a second store at Mayfair Mall in Milwaukee, Wisconsin. In 2009 the company was named the official jeweler and crown maker of the Miss Universe Organization as part of NBC/Universal's "Green is Universal" environmental initiative.