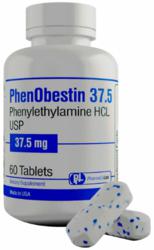 PhenObestin 37.5 is the best non prescription and side effects free alternative to prescription weight loss drugs
Germantown, MD (PRWEB) August 08, 2012
SupplementsToWeightLoss LLC (DBA:PharmaCo Labs)
According to a study published in the August 2012 issue of the Journal of Pediatrics entitled "Decelerated Early Growth in Infants of Overweight and Obese Mothers" and funded by the National Institutes of Health and University of Minnesota, babies born to mothers who are overweight or obese are significantly smaller than babies born to normal weight mothers, and grow much more slowly for the crucial first few months of their lives. They often then gain weight in a growth spurt that leaves them overweight or obese.
In the study, Katie Larson Ode, MD, assistant clinical professor in pediatric endocrinology and diabetes at the University of Iowa, was quoted as saying that "the obesity epidemic is harming children while they are still in utero and increases the importance of addressing the risk of obesity before females enter the child-bearing years, where the negative effects can affect the next generation."
The study had some promising theories regarding why overweight and obese mothers had underweight babies that grew less and gained less weight (although they gained a higher percentage of fat compared to lean muscle mass) than babies born to normal weight mothers. However, the underlying mechanism has yet to be proven.
What has been proven is that PhenObestin 37.5 from PharmaCo Labs can help women who are hoping to become pregnant to lose weight as quickly and as effectively as the prescription weight loss drugs Adipex and Phentermine. If these women can achieve and maintain a normal weight before becoming pregnant, they are more likely to give birth to babies with a healthy weight.
PhenObestin 37.5 is an all-natural drug that has helped more than a million people from all walks of life to experience positive weight loss results since it first came on the market in 2009. These people from Australia, the United Kingdom, and the United States have successfully lost weight with no side effects, quickly and easily.
More importantly, they were able to lose stubborn belly fat and the visceral fat around the major organs of their bodies. This type of fat, normally so difficult to get rid of, has been shown to increase the risk of all sorts of diseases, including diabetes, strokes, and heart disease.
The all-natural ingredients in PhenObestin 37.5 are all pharmaceutical-grade ingredients which are generally recognized as safe. PhenObestin 37.5 is produced in an Indianapolis-based laboratory that has been certified cGMP-FDA compliant.
Two of PhenObestin 37.5's active compounds are standardized distillates of the cocoa plant. Two other compounds come from the acacia blackbush. Another key compound that increases the first four compounds' effectiveness comes from an extract of Yohimbine bark.
These five compounds, working together in harmonious synergy, create a weight loss pill that boosts metabolism by more than prescription weight-loss drug Adipex. In addition to burning away fat, these compounds flush toxins and fatty deposits from the system and spur increased activity and dopamine levels in the brain. The Yohimbine bark extract carries the active ingredients throughout the body to the normally hard to reach areas of stubborn fat where they can do the most good.
The combination of compounds helps dieters to feel good while having enough energy to exercise and release further feel-good endorphins while increasing their amount of lean muscle mass, which is crucial for their ability to maintain their new weight. The compounds also keep them mentally alert and focused, so they can make smart eating and lifestyle choices to support their weight loss goals.
For more information, contact Georgiy Kharchenko at 800-935-6312.