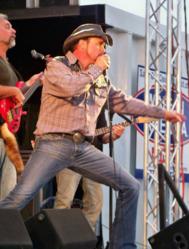 Elma, New York (PRWEB) August 09, 2012
The 2012 Whitetail Xtreme Events is a three day moving expo that brings vendors from all over the nation to three different venues in three days. The "Outdoorsman show" brings hunting fans and fishing enthusiasts to a venue with everything an outdoorsman could want. The Made In America Store, one of the sponsors of the Whitetail Xtreme Event, will be presenting Ricky Lee.
Wednesday, August 8th, the Whitetail Xtreme Event will be in Mayville, New York. Tickets to get into the expo are $25.00 and the doors open at 5:00pm. Ricky Lee will get an hour set and perform "God Bless America". The Whitetail Xtreme Event will have Silent Auctions, Xtreme Raffles, Chinese Auctions, Gun & Bow Giveaways, Celebrity Signings and even a Live Auction.
Pat & Nicole from the hunting television show, Driven, will be making a guest appearance, which is part of their Back Roads Tour.
Proceeds from the Whitetails Xtreme Event benefit the EMW Boys & Girls Club and the Made In America Store donated a full Fire Ring set to be auctioned off for the charity. The full Fire Ring set has the Fire Ring, Base and the Rotating Grate.
Ricky Lee and the Made In America Store teamed up back in 2010 when the store owner, Mark Andol, discovered Lee's song, 'Made In America." The patriotic song is about Ricky growing up in America and how times used to be with relatives working on the factory line to it eventually being shut down. The song stresses how important it is to keep your values with being made in American.
The Made In America Store offers three of Ricky Lee's albums, and also are 100% American made. Ricky Lee is also committed to the US soldier, just like the Made In America Store. For every CD Ricky Lee sells, he donates five dollars to the VFW Military Assistance Program.
The Made In America Store is located at 900 Maple Road in Elma, New York and is committed to selling 100% American manufactured products. You can visit http://www.MadeInAmericaStore.com for more information or shop our catalog of over 3,500 products from over 290 vendors that are devoted to producing USA made products. All US military personnel, both active duty and veterans, receive a discount every day. Consumers can also keep up to date news articles, events, photos and contests with Facebook, Twitter, Google+, Pinterest and Tumblr!