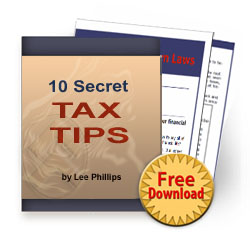 Today the biggest threat to financial success is the threat of run-away taxes.
Provo, UT (PRWEB) August 08, 2012
Most people want to go for the gold just like Olympic athletes. Looking at the athletes could help in the pursuit. Olympic athletes don't leave anything to chance. They use the number one coaches, top level equipment and best training techniques. They stop at nothing because in competition, doing so deprives them of the gold metal.
Lee Phillips observes that, "so many people work hard to achieve dreams, but take for granted the financial techniques and tax strategies that could put gold in their future."
He continues by saying, "Today the biggest threat to financial success is the threat of run-away taxes. That sounds hard to believe, but simply look at the problems in our nation. Our uncontrolled deficit must eventually be paid. We have to pay for wars and social programs."
Fortunately, there are a number of ways to play the tax game. One of those ways is with the newely released Ten Tax Tips. These tax tips help people understand the tax structure and plan for success. It could mean the difference of several thousand dollars at the end of the year to spend, pay off debt or invest.
Download the information here.
Mr. Phillips states, "Ignorance of the laws governing taxes is a major obstacle to financial success for many people. Taxes have to be controlled. The only way to control taxes is to understand the tax laws and use them to advantage. Dreaming about cutting income taxes doesn't have to be just wishful thinking. Taxes must be controlled, buy the only way to do it is to stop dreaming and learn how to use the law.
Many people act like an ostrich and stick their head in the sand, hoping things will get better. That won't help. It all comes down to how well one understands and uses the laws associated with money and taxes. My new product Ten Tax Tips helps people do just that." With these tips it is easy to get a small business started correctly and go for the gold."