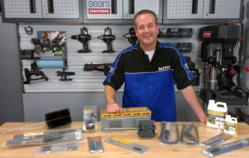 Los Angeles, CA (PRWEB) August 09, 2012
The Flex-Hone® tool from Brush Research Manufacturing (BRM) was featured recently in an episode of Motorz TV, a popular DIY automotive television show hosted by Chris Duke. This how-to video featuring the company's proprietary cylinder hone was seen across the United States on MavTV, Untamed Sports TV, and TiVo, and is currently available worldwide on iTunes and You Tube.
As Chris Duke explains in "How to Complete the Rebuild of a Chevy 350 V8 Small Block Engine," the Flex-Hone® is ideal "if all you need to do is just freshen up your motor a little, or install new rings and you don't have any major block damage."
Unlike other automotive TV shows, Motorz is designed for car hobbyists who don't have a garage full of expensive tools, let alone a lift. That's why in the second episode of the engine rebuild series, Chris Duke took his used Chevy 350 V8 small block to a machine shop "to get it all cleaned up."
For engine cylinders that don't require reboring, however, the Flex-Hone® tool lets you "do a lot of the things we did in the machine shop in your shop," Duke explains. By using a cylinder hone with a variable-speed drill or a drill press, automotive hobbyists can solve deburring, deglazing, and surface finishing problems.
BRM's Flex-Hone® is available in standard and heavy-duty styles, and comes in a variety of abrasive types, grits, and sizes. Built with a stiff metal stem and flexible nylon filaments, the honing tool features abrasive globules that remove cut, torn, and folded metal from the walls of engine cylinders.
In addition to new and rebuilt motors, automotive applications for the Flex-Hone® include brake rotors, piston pin bores, wheel cylinders, and cam bearing bores. As Chris Duke adds, "BRM also offers a complete line of automotive brushes to handle the cleaning and finishing of all your automotive parts."
The Flex-Hone® tool requires lubrication prior to use. Although some users apply 1030W motor oil, BRM recommends generously lubricating the tool with Flex-Hone® Oil instead. Solvents are not recommended.
"Within seconds of using the flexible hone," Chris Duke demonstrates on Motorz TV, "it will deglaze the cylinder and leave the surface with 20 to 40% valleys for oil retention, allowing the piston rings to seat immediately." To create the proper cross-hatch angle on engine cylinder walls, "accelerate the stroke rate for last few strokes" but don't over-hone the cylinders.
After surface-finishing is complete, "thoroughly clean each engine cylinder," Duke continues. First, use warm or hot soapy water and a soft cleaning brush to remove any residue or debris. Next, dry the walls with a lint-free cloth. When the engine cylinders are clean, use a fresh lint-free cloth coated with light oil or mineral spirits.
For a complete demonstration of flexible honing, watch Motorz TV's "How to Complete the Rebuild of a Chevy 350 V8 Small Block Engine," starting at the 15-minute mark.
The Flex-Hone tool was created by Brush Research Manufacturing (BRM) in Los Angeles, Calif., a manufacturer of honing tools, deburring brushes and other abrasive tool technology.