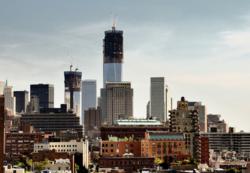 A construction worker's safety in New York City is paramount...
New York, NY (PRWEB) August 09, 2012
The NY Port Authority says it is cracking down on daytime drinking at the World Trade Center Site. Executive Director Pat Foye told the New York Post the agency is increasing the budget for its inspector general and adding investigators for the public-safety effort. He called the World Trade Center construction the most complicated project anywhere. Foye said "vodka and steel beams and a construction site don't mix.'' - 4NewYork, August 6, 2012
"Construction worker's safety in New York City is paramount, whether they're working on a ladder, a scaffold, a crane or demolition site." said construction accident lawyer Daniel Minc from the RMFW law firm. "It's only a small minority of workers abusing alcohol, who have an impaired sense of judgment and are exercising an unsafe practice."
The IG has been quietly deploying undercover agents to the bars around the World Trade Center and is planning to keep up the pressure. Already, more than 20 construction workers have permanently lost their WTC credentials, and more can be expected to do so, Foye said. - NYPost August 8, 2012.
"It's rare to see an alcohol related accident on a construction site. Generally accidents involve unsafe equipment or unsafe employer/work practices," said New York construction accident lawyer Daniel Minc.
In February, 40 tons of steel crashed 40 stories to the ground. Then, in late June, a worker was impaled on a length of steel after falling five feet, and a day later, glass rained down on the street after a beam crashed into windows 46 stories up. The accidents all occurred at 4 WTC, one of the towers being built alongside 1 WTC, nicknamed "The Freedom Tower." "There is no place at the World Trade Center for risky or irresponsible behavior of any kind," said Bud Perrone, a spokesman for the developer, Silverstein Properties. - NYPost August 8, 2012.
"Our New York Construction Accident attorneys are advocates for job safety and safety initiatives," said Dan Minc experienced NY construction accident lawyer and partner in the New York Law Firm of Rosenberg, Minc, Falkoff and Wolff. "Our Law firm has been involved in personal injury litigation in New York City and the surrounding areas, fighting to protect the rights of construction workers."
New York City is home to some of the most beautiful, distinctive buildings on the planet. Scores of skyscrapers jockey for position on our famous skyline. It is not an exaggeration to say that this city was built through the hard work and dedicated efforts of thousands of construction workers.
Every day, countless construction workers go to job sites throughout New York City and beyond to perform their trade. Construction is a rewarding, physically demanding profession. Even in the best of circumstances, construction can involve some degree of risk. When construction workers are injured on the job, these injuries can lead to life-altering problems. If you have been injured in a construction accident, you will have large medical bills. You may be worried about being able to support yourself and your family. In the worst cases, you may never be able to work again.
An experienced construction accident lawyer can be your best friend in these difficult times. We are the New York construction accident lawyers of Rosenberg, Minc, Falkoff & Wolff LLP. Our law firm has served injured people since the 1920s. We have recovered significant compensation for people who have been injured on the job. We understand what you are going through and will devote our efforts to helping you recover the financial compensation necessary to move forward from your accident.
A construction accident can leave a person with life-changing injuries. They may have to undergo surgery and painful rehabilitation. Sadly, certain injuries may be permanent.
Despite the risks of the job, construction workers who are injured on the job may be able to pursue a personal injury lawsuit. Although workers' compensation benefits will cover certain expenses, it may not cover everything. To determine if a personal injury lawsuit is appropriate, accident victims in New York City would be wise to consult with an experienced personal injury attorney.