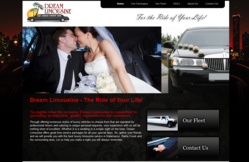 Kalamazoo, MI (PRWEB) August 08, 2012
Blue Fire Media joined forces with Dream Limousine to launch their newest project. Like other businesses seeking web marketing experience, Dream Limousine went to Blue Fire to create an informative website and achieve advertising goals.
The launch of their new website, Dream Limousine, provides options for those looking to have fun or those needing a ride to the airport. Arriving in style never goes out of style. That being said, limousines are nothing like they were 20 years ago. The basic limo or stretch limos have been added to the fleet of various luxurious vehicles. Dream Limousine has a large selection of vehicles to cater to any special events, be it a wedding, prom, or just a fabulous night on the town. Limousines are such an easy idea.
Generally, limo rentals are utilized for special occasions, like bachelor/bachelorette parties, birthday celebrations, etc. Try out something different if a basic limousine isn't enough. The Super Stretch H2 Hummer Limo is a popular choice. The amenities of the interior of each luxury vehicle may be important upon a decision. Luxury is the key word. Limousine services always provide tinted windows; that's a part of the excitement of having a limo for the night. Among basic essentials, Blue Fire has highlighted Dream Limousine's packages on their new website.
For example, Dream Limousine knows how stressful traveling is. Their airport and shuttle service is there to bring ease to the frustration of travel. In addition to taking travelers to the airport, why not get picked up after a long flight? Luxury vehicles aren't just pertained to large parties; smaller parties have Sedans or SUVs to cater to their needs, all the while having the same amenities that larger parties may have in a limousine.
For more package deals and information, visit their new website at: http://www.dream-limousine.com.
For more information about developing a website, visit Blue Fire Media's website at http://www.bluefiremediagroup.com.