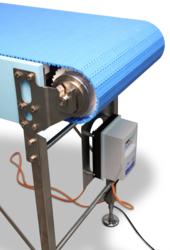 Muskegon, MI (PRWEB) August 14, 2012
Energy savings are experienced in the most obvious and non-obvious ways with DynaClean food processing conveyors. DynaClean conveyor systems include synchronous drum motors which offer energy savings of at least 30% and efficiencies to end users in the food processing sector. The drive operates at a precise velocity even at extremely high or ultra low speeds. It has a consistent torque and a sensor-less controlled speed range from 0.0015 to 4.4 m/s.
The low speed range is ideal for products in a slow-moving conveyor process, such as foods that are manually handled, cut, trimmed, de-boned, glazed, blanched, defrosted, baked or frozen. The fast-speed range is perfect for conveying materials with high throughputs in automated packaging, dynamic weighing, high-speed food processing, logistics and distribution centres.
The power loss of the synchronous drum motor is extremely low (only 9%). The effect of this is that the motors operate with a maximum shell temperature of 45°C, even at full rated power. With these motors; chocolate coatings, dairy and egg products and other perishable goods like meat or fish can be transported at much lower temperatures, thus reducing the possibility of proteins sticking to the drum surface.
In addition to the more obvious cost savings with drum motors, additional energy savings can be experienced during the cleaning process. The DynaClean food grade conveyor is designed for rapid cleaning; therefore, reducing the energy consumed to create hot water or steam for cleaning. The motor is designed so that water, debris and soiling falls away during running operation making the drum motor easy to clean.
The side rails and belting are blue in color for ease of soil identification and removal. The belting material does not encourage bacteria growth and can be efficiently cleaned to a microbiological level. Internal access to the conveyor is immediately allowed via belt lifters. When complete internal access is needed, the belt can be quickly removed. The food grade conveyor system is built using stand-off and flange head bolts to expedite the cleaning process. Using fewer resources for cleaning reduces overall energy consumption.
DynaClean reconfigurable food processing conveyors are custom designed and built to meet NSF, FDA, USDA and BISCC standards. DynaClean food processing conveyors can be designed, configured and reconfigured to include horizontal and multiple angle options such as 30°, 45° and 90°. In addition to energy cost savings, conveyor reconfiguration can save companies money every time a new conveyor layout is needed.
For more information about energy-efficient DynaClean conveyor systems, contact Dynamic Conveyor Corporation, 5980 Grand Haven Road, Muskegon, MI 49441; phone (800) 640-6850; or visit the web site http://www.DynamicConveyor.com.