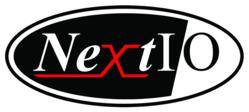 With its ability to simplify our customers' data center operations and save them money, vNET I/O Maestro is a tremendous addition to our product portfolio
Hong Kong (PRWEB) August 09, 2012
NextIO, a leader in I/O consolidation and virtualization solutions, today announced a distributor agreement with Vertex to resell NextIO vNET I/O Maestro devices in Hong Kong and Macau. Vertex is adding vNET I/O Maestro appliances to its IT solutions portfolio to help customers deploy and manage complex server I/O.
Vertex Systems Limited has been providing IT solutions for clients in different sectors such as commercial, Government and education over the past ten years. In recent years, Vertex has been transforming its business focus from providing IT solutions to a technology provider that works with IT solution providers in planning, design and implementation of IT projects and infrastructure.
"With its ability to simplify our customers' data center operations and save them money, vNET I/O Maestro is a tremendous addition to our product portfolio," said Edwin Lee of Vertex. "By virtualizing server I/O at the top of the rack, this product from NextIO will help our customers manage their complex IT environments more effectively."
NextIO's vNET I/O Maestro is a rack-level appliance that simplifies the deployment and management of complex server I/O by consolidating and virtualizing I/O resources, resulting in reduced CapEx and increased operation efficiencies. This appliance removes layers of data center complexities often found in traditional server I/O deployments to maximize the value, productivity and efficiencies of complex server I/O.
"Working with a technically experienced company like Vertex gives NextIO an opportunity to gain significant traction in Hong Kong and Macau," said Mike Heumann, SVP, worldwide sales and marketing for NextIO. "vNET Maestro continues its momentum throughout the world, and we're proud to be partnering with leading player in these key Asian markets."
About NextIO
NextIO simplifies enterprise datacenters by consolidating and sharing networking, GPGPU computing, and storage devices within the compute rack. The result is reduced CapEx, increased operational efficiency, and unmatched business agility to respond to changes in computing needs. NextIO is the only top of rack I/O fabric solution that seamlessly integrates existing and future servers, networks and storage fabrics without requiring proprietary drivers. The NextIO product suite – which includes an innovative architecture based on industry standard PCIe switching technology – addresses data center requirements across multiple industry segments including: Enterprise, Cloud Computing, Managed Service Providers, Web 2.0, Oil & Gas, High Performance Computing, Financial Services, Academia, and Government. For more information, visit http://www.nextio.com.
About Vertex
Founded in 1996, Vertex has two business units, and Vertex Systems Limited is the IT solution and product distribution business of the Vertex group. Vertex has been providing IT solutions to a variety of clients and is now focusing on IT product distribution, working with solution providers in different areas of IT project planning and implementation. For more information, visit http://www.vertexhk.com/business .
Media Contacts:
Jamie Smethie
Global Director Marketing, NextIO
jsmethie(at)nextio(dot)com
+1 512.439.5353
David Gibbs
Media Relations Representative
dgibbs(at)bando(dot)com
+1 512.432.1861