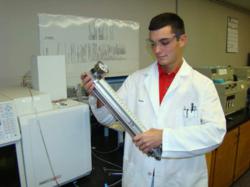 "Sherry Laboratories is excited to be involved with the Utica and Marcellus Shale boom," said Ben James, President of Petrochemical Services.
Daleville, Ind. (PRWEB) August 10, 2012
Sherry Laboratories is pleased to announce its continued growth with the opening of a new natural gas analysis laboratory in Cambridge, Ohio. Sherry Laboratories' Petrochemical Division serves customers in the petrochemical market such as natural gas production, gas transmission pipelines, drilling, exploration as well as liquid hydrocarbon fractionation by providing services such as hydrocarbon analysis for BTU determination, extended analysis, liquid hydrocarbon analysis, sulfur analysis and reference standards manufacturing.
"Sherry Laboratories is excited to be involved with the Utica and Marcellus Shale boom happening in Cambridge and Eastern Ohio," said Ben James, President of Sherry Petrochemical Services. "We support major players in the petrochemical industry in other shale plays and we understand clients operating in this industry need accurate test results in a hurry. We are dedicated to meeting or even exceeding their needs and expectations."
The Cambridge natural gas laboratory will be under the leadership of industry veteran, Mike Perl. Perl has over 28 years of natural gas laboratory experience.
"The Cambridge facility is ideally situated to provide analytical services to customers in both the Utica & Marcellus Shale arena. Sherry Laboratories is well respected within the petrochemical industry for our ability to deliver superior customer satisfaction, quality and rapid turnaround," said Mike Perl, Ohio Laboratory Director.
Sherry Laboratories' Cambridge expansion is the second expansion of Sherry Petrochemical in the past year. In October 2011, Sherry Petrochemical opened a natural gas quality analytical lab in Shreveport, La. The Cambridge, Ohio and Shreveport, La. laboratories join a third hydrocarbon laboratory in Scott, La. to complete Sherry Laboratories' Petrochemical Division. In addition to hydrocarbon analysis, the Scott, La. facility also manufactures gas standards such as LNG calibration standards, GPA and custody transfer chromatographic standards.
About Sherry Laboratories
Sherry Laboratories, headquartered in Daleville, Ind., is a network of eleven testing laboratories located in Louisiana, Texas, Ohio, Oklahoma and Indiana. In addition to the hydrocarbon testing services provided by Sherry Laboratories, Sherry provides independent and uniquely accredited environmental, air, food, microbiological, bioassay, metallurgical, nonmetallic testing services and engineering expertise including failure analysis. Established in 1947, Sherry maintains an impressive list of accreditations and approvals, and serves clients across the United States and throughout the world. To learn more about our company, visit our web site at http://www.sherrylabs.com.