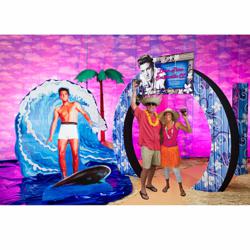 South Whitley, Indiana (PRWEB) August 08, 2012
A series of global events are scheduled to honor the life and legacy of Elvis life and celebrate his music on the 35th anniversary of his passing on August 16th, 2012. Elvis Presley's Graceland, the King of Rock 'n Roll's famous Memphis mansion, will roll out the red carpet with a calendar filled with special over 30 special events and concerts. Shindigz.com, a retailer licensed to sell Elvis party products shares in the excitement in announcing the lineup of events in Memphis starting August 10th and wrapping up on August 18th:
August 10th – "Memphis Celebrates the King Music Fest" is a free event which features local, Memphis musicians as they celebrate Elvis's musical traditions.
August 11th – The 30th Annual Elvis Presley 5K Run benefits Livitup, Inc. Participants race and then enjoy food, fun, and great music for a good cause.
August 12th – A double feature of "Jailhouse Rock" and "Viva Las Vegas" runs at the main stage entertainment pavilion. Remember Elvis at his very best in these classic films from Warner Brothers.
August 15th – Experience the magic of the Tropics at the "Aloha from Hawaii Party." This event features pictures and video of Elvis in Hawaii and offers information about events happening January 2013 in Honolulu.
August 16th – Attend the Elvis 35th Anniversary Concert at the FedEx Forum in Memphis. Pricilla Presley, Lisa Marie Presley, and a host of other special guests make feature appearances. This musical event promises to be an evening to remember.
August 18th – "The Elvis Week Farewell Dance Party" caps the festivities and celebrates the legend that reshaped the musical landscape worldwide. Close out the week's festivities and honor a musical giant with performances by Terry Mike Jefferies and Jaime Aaron Kelly.
If fans can't make the pilgrimage to Memphis, Shindigz party supplies can help commemorate the August 16th celebration of the life and legacy of Elvis Presley with a fifties touch.
Famous for his music and for his 30 films which includes Viva Las Vegas, some fans decorate their own movie sets with Elvis party supplies. Elvis standees, leis, and raffia re-create the South Seas. Jacquie Downey, Director of Sales and Marketing at Shindigz says, "party hosts give guests personalized, Blue Hawaii-themed, playing cards, candy bars, and mint tins as favors or trivia contest prizes. Shindigz also helps party planners recreate the glitter of Vegas in the 50's with an Elvis in Lights Standee and a large selection of Casino Night accessories."
Downey adds, "No Elvis theme party is complete without the King's favorites on the menu. Decorate tables with Luau Fun Deluxe Kit-N-Kaboodles and serve peanut butter and banana sandwiches."
About Shindigz
Since 1926, Shindigz devotes itself to customer satisfaction and a mission "to make life more fun." Serving the United States and over 59 countries world-wide with over 22 million events, Shindigz has exclusive rights to license, produce, and sell Elvis Presley party supplies. For more information, visit http://www.Shindigz.com.