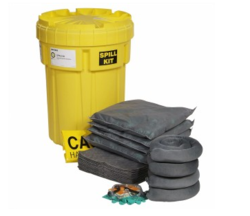 This provided more than enough protection from drips, leaks, and spills in our factory.
Lake Oswego, OR (PRWEB) August 10, 2012
OSHA (under 29 CFR 1910.120) requires that every company dealing with, storing, or transporting potentially hazardous chemicals, oil, or other materials must have a spill response plan that includes a spill kit - by which an emergency spill control team may clean up and contain one until it can be properly disposed of.
Creative Safety Supply offers a wide range of spill response kits to assist in the control of and removal of dangerous spills, leaks, and drips. With spill kits that can be carried on a truck to large oil drum spill containment pallets, this company provides the best protection from unexpected spills.
Visit them on the web at http://creativesafetysupply.com/spill-kits