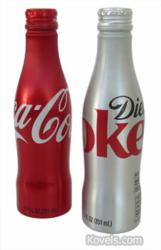 Cleveland, OH (PRWEB) August 09, 2012
Every month, the Kovels.com Top 10 list shows the interests of the collectors that visit the website. During July 2012, antique enthusiasts were busy researching:
1. Glass
2. Bottle
3. Occupied Japan
4. Doll
5. Coca-Cola
6. Clocks
7. Red Wing
8. Royal Copley
9. Bavaria
10. Jewelry
Glass is No. 1 on the Top 10 list this month—even though it hasn't appeared on the list for the last few months. Why did it climb to the top? Perhaps because inexpensive flower vases and beverage tumblers are summer-oriented collectibles. Several expensive modern studio glass auctions are coming up, too, spurring a renewed interest in studio glass.
Aside from Royal Bayreuth, which didn't get enough searches to be in the Top 10, all of June's Top 10 remain on July's list. Jewelry had the biggest move, dropping from No. 3 to No. 10. There seems to be less interest in jewelry during the summer when it's hot and lightweight jewelry is worn.
Red Wing, an American pottery company whose tableware and modern-style vases are always in demand, dropped a notch from No. 6 to No. 7. And Bavaria held at No. 9. The word "Bavaria" has been a mark used since the early 1800s on many brands of porcelain from that area of Germany.
Searches for bottles increased, bouncing from No. 5 to No. 2. Warm weather means bottle-digging time and Kovels.com can help collectors identify and price their finds. Coca-Cola, at No. 5, always seems to float in the middle of the list. The company is releasing some new special bottles right now, and collectors want price information before scurrying to buy them. Pictured are two 2008 aluminum Coca-Cola cans shaped like the famous bottle.
Keep searching and stay tuned for August's Top 10!
About Kovels Antiques, Inc
Kovels.com, the online portal for Kovels' Antiques, provides collectors and researchers with up-to-date and accurate information on antiques and collectibles. Kovels' Antiques was founded in 1953 by Terry Kovel and her late husband, Ralph. Since then, Kovels' Antiques has published some of America's most popular books and articles about antiques, including the best-selling "Kovels' Antiques and Collectibles Price Guide," now in its 45th edition; a 12-page monthly newsletter, "Kovels on Antiques and Collectibles," in its 39th year of publication; and a weekly syndicated column, "Kovels: Antiques and Collecting." The Kovels' website, online since 1998, and free weekly email, "Kovels' Komments," give readers a bird's-eye view of the market through up-to-date news, auction reports, an online Price Guide, digital editions of the Kovels' newsletter, an archive of newspaper columns, a Marks Dictionary, readers' questions with Kovels' answers, and much more.