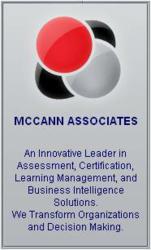 Yardley, Pa. (PRWEB) August 09, 2012
McCann Associates, a leader in the deployment of high-stakes formative and diagnostic assessments for professional and educational purposes, has released the first preparatory test for the Certification Commission for Healthcare Interpreters' Associate Healthcare Interpreter™ exam. The Practice Examination gives prospective healthcare interpreters experience with the computer-based test delivery system used for the AHI™ credentialing examination and provides information regarding the format and content one can expect to see on the exam.
The AHI™ Practice Examination, which is available for purchase from the Vantage Online Store, consists of 27 questions. The questions are divided across the same domains that appear on the actual AHI™ exam: managing an interpreting encounter; healthcare terminology; interacting with other healthcare professionals; preparing for an interpreting encounter; and cultural responsiveness.
"The AHI™ Practice Examination really gives each test taker a feel for what he's to expect from the CCHI exam, but it also goes a step further," said Keith Webster, President of McCann Associates. "When the prep test is submitted, it is scored and a diagnostic report is provided. This identifies for the individual the areas in which he needs further study, as well as resources and correct answers for each exam item."
CCHI's Associate Healthcare Interpreter™ examination is a computer-based, 100-question, multiple-choice exam delivered by McCann Associates. One must pass the exam in order to receive the Associate Healthcare Interpreter™ credential from CCHI, the professional certification organization acting in the public interest by establishing and enforcing education; examination; experience; and ethics requirements for certification of healthcare interpreters.
As the foundation credential for all healthcare interpreters, the AHI™ credential indicates that an individual has the knowledge required of such a practitioner and has passed the first step in becoming a Certified Healthcare Interpreter™. Once a healthcare interpreter receives their CCHI Associate Healthcare Interpreter™ credential, he is eligible to apply for a language-specific credential in one or more languages in which he interprets. Currently, the CHI™ examination is available in Spanish, Mandarin and Arabic. Free samples of these oral exams are also available in the Vantage Online Store.
About McCann Associates
Since 1959, McCann Associates has been an innovative leader in the development and distribution of assessment, certification, business intelligence and personal development solutions. Leveraging advanced technology, McCann provides cost-effective tools via Software as a Service for Higher Education, Government and Public Sectors, Public Safety, Corporate HR and Employee Learning.
###