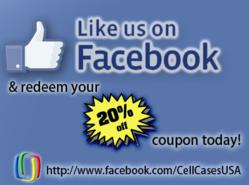 Through our wide selection, reliable products, and unmatched commitment to customer service, we're taking online shopping in a new direction
Walnust, CA (PRWEB) August 09, 2012
CellCasesUSA.com, a hugely successful and highly rated reseller of top quality, name brand cell phone, tablet and PDA accessories has launched an online superstore to provide customers with more selection and easy, convenient 24/7shopping. Through its superstore, the company can also more effectively and efficiently satisfy its customers with rapid order fulfillment via several warehouses, free shipping within the U.S., and a 30-day no hassle return and service guarantee.
Some of the cellphone, tablet and PDA accessory manufacturers featured at CellCasesUSA.com include:
*Latest accessories of Galaxy SIII S3, Evo 4G LTD, HTC One X S V, Droid Razr Maxx, iPhone 4S, the New iPad 3 and more
*INCIPIO: Incipio has managed to outlast its competitors by providing high quality products at affordable prices. The company is one of the most innovative mobile accessory makers in the world, with products featured in several leading magazines and on TV.
*ODOYO: Odoyo's products have been praised at CES 2012, HK Electronics Fair, and COMPUTEX Taipei -- one of the largest gadget expos in the world. The company's award-winning cases include: SmartCoat X, AirCoat Cases, ODOYO SlimCoat Covers,Ultra Slim line, Esteria Designer Cases, Amani Africa Collection, Dottern, Vivid, Miracle, Digi Camo, and the ODOYO Opal Collection for iPhone and iPad.
*OTTERBOX: Otterbox Defender Rugged cases are made to exceed military specifications and offers serious device protection. Otterbox's Commuter cases are just as tough, yet feature a slimmer design, while the Otterbox Impact cases are the first to offer a strong, thick rugged skin.
*BALLISTIC: Ballistic's cases, including the Hard Core, Shell Gel, LifeStyle, and Sport Rugged line of products, are designed to last for years and take a pounding. The company is one of the first to engineer rugged cases with the soft breathable silicon rubber interiors that prevent scratches and absorb shock, and add holster clips for greater mobility.
"Through our wide selection, reliable products, and unmatched commitment to customer service, we're taking online shopping in a new direction," commented David Kim, President of CellCasesUSA.com. "We make it easy for our customers to find, order, and receive their cellphone accessories -- even limited and hard-to-find items. Plus, our multiple warehouse locations enable us to deliver products much faster and cheaper."
People looking for the hottest cell phone, tablet and PDA accessories at low prices and with free shipping can shop online at CellCasesUSA.com's superstore 24 hours a day. They can also call (909) 594-3777 and speak with a friendly Customer Service Specialist.
About CellCasesUSA.com
CellCasesUSA.com offers the best prices and service on today's hottest cell phone, tablet, and PDA accessories. Every product sold by the company undergoes an extensive quality test, to ensure that customers receive the best quality. CellCasesUSA.com is located in Southern California, and has warehouses in several locations to provide enhanced service, wider coverage and rapid shipping. For more information, visit CellCasesUSA.com or call (909) 594-3777.