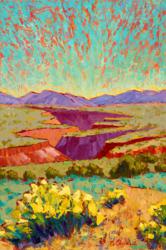 Taos, New Mexico (PRWEB) August 10, 2012
Taos, New Mexico, the original art colony in the United States, is celebrating art with its "Grand Fall Arts" events – a series of art events in September and October. The 2012 festivals which include Taos Fall Arts Festival, Taos Art Glass Invitational, and Taos Wool Festival, among others, offer many opportunities for visitors to join in and try their hand at making art. Private tours of artists' studios, hands-on weaving and spinning workshops, and culinary contests are available to those interested in an up close and personal glimpse at art-making.
Saturday, Sept. 22–Thursday, Sept. 27
Kicking off the two-week season of art festivals on Sept. 22, professional and amateur chefs and caterers compete during the sixth annual Taos Rotary Chile Challenge at the Taos Country Club. The event begins with a golf scramble tournament at 9:30 a.m. followed by food samplings of dishes containing red and green chile. There are also beer samples from the finest breweries in the Southwest who will be competing in the club's Battle of the Breweries. The public is invited to taste and vote on their favorite chile and beer. The Chile Challenge and Battle of the Breweries take place from 2–5 p.m. The day includes a silent auction with over 100 gift certificates from which to bid. Tickets are $20 per person. Visit taosrotary.org for details.
The Taos Institute for Glass Arts is presenting their fourth biennial Taos Art Glass Invitational Sept. 14–Oct. 7, featuring artworks and narratives from women who have pioneered the studio art glass movement in NM. The exhibition titled, "Bold Women: Translucent Expressions" will bring top artists from the region to Taos. The 2012 Invitational includes the Walking on Glass Tour featuring juried exhibitions at multiple galleries throughout Taos along with lectures, demonstrations, and workshops. A high-end, all-inclusive "Collector's Art Glass Tour" is planned for a small number of connoisseurs from Sept. 20–23, by Artours. Call 575-758-4246 for details.
The beauty of Taos' open landscapes and culture is infused into the art of chamber music, which can be enjoyed beginning on Sept. 22 at the 20th season opener of the Taos Chamber Music Group. A festive program combining classical, Spanish, Latin, popular, jazz and folk musical influences kicks off the season with Chick Corea's Trio for flute, bassoon and piano, Maximo Diego Pujol's Dos Aires Candomberos for flute and marimba, Manuel de Falla's Seven Popular Spanish Songs, Vaughan Williams Suite de Ballet for flute and piano, songs by Ricky Ian Gordon, and Mosaics for flute, bassoon and marimba by Eric Ewazen who will be at the performances to introduce the piece. Performances take place on Sept. 22 and 23 at 5 p.m. Visit taoschambermusicgroup.org for details or call 575-758-0150.
On Sept. 27, the ISEA2012 (Int'l Society for Electronic Arts) Symposium will host a number of events, exhibitions, presentations and demonstrations centered around "Taos Day," as part of their 18th International Symposium on Electronic Art. The ISEA2012 Albuquerque: Machine Wilderness is a symposium and series of events exploring the global discourse on the subject of art, technology and nature. For a schedule of Taos events, visit taos.org/isea2012
Friday, Sept. 28–Sunday, Oct. 7.
The oldest art festival in Taos – the 38th annual Taos Fall Arts Festival – will celebrate the visual arts from more than 250 artists in Taos County from Sept. 28–Oct. 7. A ticketed sneak preview will take place from 4–6 p.m. on opening day, Sept. 28, followed by a free, general admission opening from 6–8 p.m. The Taos Fall Arts Festival includes two major art shows – Taos Select and Taos Open. Taos Select is a juried exhibition which includes a much anticipated Distinguished Achievement Award Series. Awards for this year's Distinguished Achievement Award Series have been given to the following women artists, in keeping with the Town's "Remarkable Women of Taos" educational theme: Mary Shaffer; Mimi Chen Ting; and Rachel Brown.
The Taos Open is available to all Taos artists working in a variety of mediums. The 2012 poster artist for this year's festival is Michelle Chrisman whose painting, "Full Bloom at Taos Gorge" (30x20 oil) will be featured on the 2012 festival poster.
Additional events during the festival include: second annual Wearable Art Fashion Show (Oct. 2 at 6 p.m.); 2nd annual Taos Artist Colony Photo Shoot (Sept. 23 at KTAOS); Distinguished Achievement Award Reception (Sept. 28 from 4–6 p.m.); Youth Art Show; School Days (Oct. 2 and 3); artist demonstrations (daily throughout show); Taos Open and the Taos Select (formerly known as "Taos Invites").
The festival is being sponsored by KTAOS radio, KVOT radio, and the Taos News. A portion of the proceeds from the festival will benefit art programs for Taos County children. For more information, visit http://taosfallarts.com or contact Nancy Delpero at 575-613-5340 or tfafvolunteer(at)gmail(dot)com.
On Sept. 29, the Taos Center for the Arts (TCA) along with 30 artists will participate in the 12th annual Quick Draw and Art Auction from noon–3 p.m. This open-air, free event gives visitors a chance to watch local artists as they work with a variety of mediums ranging from oil and mixed media to sculpture and jewelry making. This year's Quick Draw has expanded to four new sites which include: historic TCA courtyard and Stables Gallery; Bent Street at the John Dunn Shops; Ledoux Street at the Blumenschein Home and Museum; on the South Plaza; and on Kit Carson Road. The sound of live music adds to the aesthetically pleasing ambience, and artists' works can be purchased beginning at 4 p.m. that evening during a live auction.
A portion of the proceeds from the auction benefit the TCA. The TCA is located at 133 Paseo del Pueblo Norte. Call 575-758-2052 for details or visit tcataos.org.
Visitors can bring home beautiful jewelry, pottery, and art created exclusively by Taos Pueblo on Sept. 30 during the San Geronimo Festival – an event of great importance to the Pueblo. Named after St. Jerome, the patron saint of the Pueblo, it was originally a fall trading festival at which neighboring tribes would gather. After Spanish colonization San Geronimo Day was institutionalized and incorporated the original rituals with those of the church. Among the ceremonies that have always been a part of San Geronimo Day are the morning races (around 7:30 a.m.) and the mid-afternoon pole climb. Food and drink vendors are open throughout the day. No photography is allowed. Parking fee. All times are approximate; for more info, call (575) 758-1028 or visit the Pueblo's website at taospueblo.com.
SOMOS (the Society of the Muse of the Southwest) presents its newest publication, Storied Recipes, a Cookbook, edited by Gourmand International award-winning Taos author, Bonnie Lee Black on Oct. 5. The cookbook features recipes with stories by 84 friends of SOMOS –storytellers from a variety of backgrounds who love to cook as well as eat. Many will read at the book launch party and the public is welcome to taste samplings from the recipes.
Finally, on Oct. 6 and 7, the 29th Annual Taos Wool Festival weaves a 400-year-old wool tradition into the community as fiber artists and breeders throughout the Southwest gather for a weekend of fun. The family-friendly event features a handspun yarn show and contest; garment and home accessory contests; vendor booths; live animals such as llamas, rabbits, alpacas, and goats; silent auction; demonstrations of shearing, spinning, dyeing and other skills; fleece show; and numerous workshops. Over 40 intense, hands-on workshops are offered during, before and after the public fair on topics from felting to weaving to spinning. Visit taoswoolfestival.org or call 800-684-0340 for details.
"Grand Fall Arts" discounts and getaway package specials are available online at http://taos.org/grandarts. Most events are within walking distance of Plaza shops, galleries, and museums in Taos.
In addition, many other art openings and cultural events will be taking place in both Sept. and Oct. For maps, special lodging packages, and a complete list of events, visit http://taos.org/art/grand-fall-arts for complete details.
CONTACT: Erica Asmus-Otero 505-259-2202 Erica(at)griffinassoc(dot)com
# # #