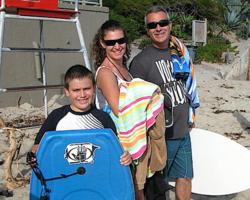 When Mr. Fowler heard about this wonderful Laguna Beach family and the benefit we were planning, his only response was 'where and when do you need me
Laguna Beach, CA (PRWEB) August 09, 2012
Recording artist Bernard Fowler, best known as the long-time backup stage and studio singer for The Rolling Stones, will be performing at a charitable fundraising event August 14th at Mozambique Restaurant. The fundraiser will be benefiting the McMurray family of Laguna Beach, whose 11-year-old son was recently diagnosed with an inoperable brain tumor.
"This is a very courageous family with mounting medical expenses and no insurance," said Ivan Spires, owner of Mozambique Restaurant. "Our goal is to raise enough money so they can enjoy quality time with their son, William, without having to worry about paying the bills."
William McMurray, who is about to enter middle school soon, was diagnosed with Brainstem Gliomas earlier this summer after complaining of signs of dizziness, headaches and trouble with balance. Michael's symptoms escalated until he was rushed to Mission Hospital with visual impairment, slurred speech and difficulty with basic motor skills.
The chilling brain tumor diagnosis hit William's parents, Michael and Sabrina, like a freight train. The question became, 'how do you tell an energetic 11 year old boy that he has an inoperable, fast-spreading brain tumor?' Making matters more challenging, the family's small, family-operated Laguna Beach restaurant called the Penguin Café, has suffered amid the economic slowdown and requires Sabrina's full-time attention as both cook and office manager.
In a blog established to keep friends and family apprised of William's condition, Sabrina wrote: "He now knows that he has cancer…his response was 'that's not good' and then frustration. I explained to him that cancers are stupid cells that have forgotten what they are supposed to do and radiation reminds them. That seemed to help for a bit. The game plan is that he will start radiation five days a week for 6 weeks. We are all looking forward to him coming home and being treated as an outpatient as of the end of next week!"
The McMurray Family Fundraiser starts at 6 p.m. and will feature free food, beverages, raffle prizes and the music of Bernard Fowler, who was selected by Mick Jagger to record vocals for his very first solo album in 1985. In 2006, Fowler released his first solo album, "Friends with Privileges," and has worked with such music notables as Herbie Handcock, Ron Wood, Darryl Jones, the Red Hot Chili Peppers, Robert Plant and many others.
"When Mr. Fowler heard about this wonderful Laguna Beach family and the benefit we were planning, his only response was 'where and when do you need me,'" said Spires, whose restaurant has become the site of many charitable events in Laguna Beach. "Thanks to Bernard Fowler's generosity, we're expecting a terrific turnout, so my suggestion is to come early and enjoy the fundraiser."
For more information about the McMurray Family Fundraiser at Mozambique Restaurant, call 1-949-715-7777. To make a donation to the family, go to http://ourlil.com/william/ and press the "donate" button.
About Laguna Tools
Laguna Tools, based in Irvine, California, has been leading the industry in wood-working innovations for 27 years and continue to challenge the industry with new advancements. They aim to be "globally local" as they are involved in many community outreach programs in which they offer their time, support, products and services.