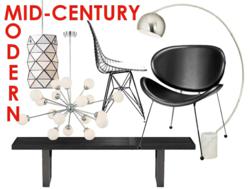 Mid-Century Modern is purposeful and clutter-free.
Los Angeles, CA (PRWEB) August 15, 2012
Los-Angeles based online retailer, Euro Style Lighting announces Mid-Century Modern as the Fall 2012 Design Trend of the Season. In response to an uptick in customer interest in this 1950s-60s inspired, Mad Men style, the EuroStyleLighting.com team of professional interior designers offers home decorating tips on how to stretch a small budget to deliver this high-design look.
"Less is more," says Cori Magee, design expert and contributor to the Euro Style Home Blog. "That can be true as much with your space as it is with your wallet." As a starting point, Magee advises: "Think thematically when you begin your Mid-century makeover. The style is, at heart, purposeful and clutter-free. In this sense, you'll want to start your redesign by removing items from your house, not adding to them."
Fellow blog contributor Brent Turner elaborates, "Consider selling or donating your older furniture. You'd be surprised how much the extra cash (or tax write-off if you're donating) can contribute toward the new pieces you'll want to purchase." The Mid-century Modern look is defined by a handful of iconic designer names and looks, and with that comes a hefty price tag. Turner offers an alternative tack to help circumvent the cost: "Don't expect to fill your entire living room with collectible designs. To decorate within your budget, focus on one or two signature period pieces such as chairs, art or dining room chandeliers. These will become the highlights that inform the rest of your space."
Magee adds, "Let budget-friendly home accessories round out your Mid-century look. A great trick is to frame photographs from an art or design book, and place them sparingly throughout your home. This adds a high Modern impression without the exorbitant price tag."
"Remember," Magee warns, "use wall art sparingly and leave ample negative space. Paint the walls white too—this helps create that wide open look of many of the classic architect-designed Mid-century Modern homes."
Wood also features generously in the Mid-century aesthetic, most often in rounded forms and medium-toned walnut and teak finishes. Turner offers another cost saving tip: "Love it as we might, not everyone can afford a vintage Danish credenza or accent table for their living room. Wood bowls, serving trays, and candleholders, on the other hand, are affordable, and will still imply that warm Modern look. For overhead lighting, try modern swag lights. These plug-in designs add ceiling light style without the need for a costly electrician to install them."
Whether it's a complete Mad Men décor makeover or just the addition of a few modern classics, interior designers and DIYers alike will benefit from a few simple decorating tips for their living room makeovers.
About Euro Style Lighting
Los Angeles based Euro Style Lighting is an online retailer specializing in contemporary lighting fixtures. The company also offers of furniture and home décor, with an expressed passion for all things modern and contemporary.The Euro Style Lighting buying team sources fashion forward designs from across the globe to offer customers a collection of competitively priced products that emphasize aesthetic value, quality and – with a growing selection of LED and fluorescent lights – energy efficiency. Featured designers include Karim Rashid, Holtkoetter, Robert Sonneman, Jonathan Adler and more. In March 2012, Euro Style Lighting launched the Euro Style Home Blog, an information and inspiration destination for lovers of modern design, architecture and art. http://www.EuroStyleLighting.com