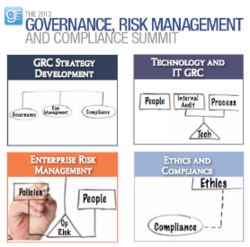 We're all learning from each other and the ones who learn first succeed.
Chicago, IL (PRWEB) August 09, 2012
Two new keynote presenters have been announced for the 7th annual Governance, Risk Management and Compliance Summit coming to Chicago, October 23-25, 2012. The Summit highlights best practices of successful GRC integration. Unlike other industry events, The GRC Summit offers attendees an intimate, non-sales driven environment that lends to the exchange of knowledge, strategies and obstacles encountered.
Leading off day two of the Main Conference will be John Rydberg, Chief Compliance Officer and Vice President, Internal Audit at Smith & Wesson. Mr. Rydberg will discuss the importance of an integrated control framework that not only mitigates risk, but also drives value for his organization. The morning keynote will dive into building an enterprise GRC program from the perspective of the Chief Compliance Officer.
Closing out the conference will be another exciting keynote session, and a first time presenter at the GRC Summit. Thomas H.W. Harper, Executive Vice President and General Auditor of the Federal Home Loan Bank of Chicago will present his 2012 OCEG Achievement Award winning GRC program. The presentation entitled, "Integrated Risk and Control Re-engineering" will provide an outline of their movement from a siloed compliance structure to an integrated and transparent risk and compliance framework.
The GRC Summit will present attendees with actionable solutions through our leading industry case studies. The Summit will also allot time for networking and interactive features that bring GRC practitioners together in an effort to exchange ideas and explore new practices.
For more information including a full speaker lineup and conference agenda please visit The GRC Summit online at http://www.theGRCSummit.com. For registration and sponsorship information contact Mark Awit at Mark(dot)Awit(at)gsmiweb(dot)com or call 888.409.4418 ext. 710.