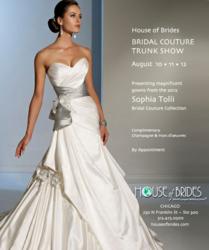 House of Brides President Eva Buziecki commented, "We're very excited to have the Sophia Tolli Trunk Show at our Chicago location. This specific line is one of the most requested in our salons.'
Chicago, IL (PRWEB) August 08, 2012
House of Brides Couture announced the Sophia Tolli Trunk Show for this Friday through Sunday, August 10th through 12th. Wedding and bridesmaid gowns will be on display for customers to view and try-on. Special incentives on the collections are available during the 3-day trunk show.
House of Brides President Eva Buziecki commented, "We're very excited to have the Sophia Tolli Trunk Show at our Chicago location. This specific line is one of the most requested in our salons."
The 2012 Sophia Tolli Bridal collection will be featured. Each dress in the collection features a silver accent to create an eye-catching look. Bridesmaid dresses will also be available.
The pictured modern ball gown is Sophia Tolli's "Pacifica" which features a sweetheart neckline and a slimming waistline accentuated by the sash. Matching handmade flowers and lace adorn the skirt's pick-ups and chapel length train with bubble hem. A functional corset back completes this eye-catching style.
House of Brides trunk shows are by appointment only. The Sophia Tolli Trunk Show is August 10th, 11th, and 12th. The show is available exclusively at the House of Brides Couture in Chicago. The salon is located in Chicago's River North neighborhood at 730 North Franklin Street, Suite 300 at the corner of Franklin and Superior Avenues.
Customers may call the salon at (312)475-0500 to arrange for an appointment. The salon is now accepting appointments for all 3 days.
House of Brides released dates for its August Trunk Shows on the Trunk Shows page of their website.
To view the ad or upcoming shows, visit the website at http://www.houseofbrides.com/TrunkShows.aspx.
About House of Brides:
House of Brides established its first brick-and-mortar store in 1929 and has since grown to 10 Chicagoland stores and global E-Commerce website, http://www.houseofbrides.com. Millions of Brides and their wedding parties visit our salons and global website for over 37,000 wedding and special event products.