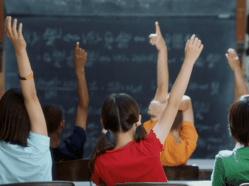 It is like an online school garage sale. I think it is a great idea for any parent who is trying to get rid of something & wants to connect to another parent who needs that item
Kansas City, MO (PRWEB) August 13, 2012
From kindergartners to college seniors, total fall back-to-school spending is expected to reach $83.8 billion, according to the National Retail Federation. It is expected to be the biggest consumer event of the year behind the winter holidays.
Nationwide, K-12 back-to-school spending should reach $30.3 billion with the average parent spending $688 on their children, up from $603 last year. College students and their families will spend $907 on average, up from $808 last year and totaling $53.5 billion nationwide.
A new website, SchoolLeftovers, has launched to address the needs of cash-strapped parents and school administrators. The site provides a convenient online storefront for buying and selling unneeded school- and sports-related items.
"I've never heard of anything like this before," said Heidi Wright, PTO President of Pleasant Ridge Middle School. "It is like an online school garage sale. I think it is a great idea for any parent who is trying to get rid of something and wants to connect to another parent who needs that item."
SchoolLeftovers users can list and buy a wide variety of items pertaining to children and education such as books, electronics, clothing, and sports supplies, as well as services such as tutors and babysitters. School districts and family-friendly businesses can establish Storefront pages to promote their products or services.
The site was the creation of Lisa Schuster, mother of three, who saw a growing need among parents struggling to keep up with soaring educational, sports and activity costs as well as her own school district needing to raise money to offset budget cuts.
"When you have children, you understand ... it gets expensive," says Schuster. "Trying to keep up with all of their school supply needs, sports equipment, apparel, spirit wear, books, and other items can leave your bank account drained at the end of the month. We'd like to believe that this only matters in August when they're heading back to school, but it's a year-'round thing; it never ends."
About School Leftovers
School Leftovers enables parents to buy, sell, any used school/sports/activity or club related items directly to other parents, by-passing other cluttered auction/classified websites & even local consignment stores. In addition to auctions, parents have access to other valuable resources like finding a school photographer, learning who the best tutors are in their area, fundraising opportunities and much more. To release your clutter and find bargains on child-related supplies, visit SchoolLeftovers today.