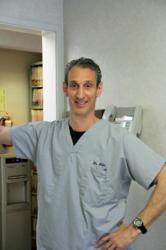 Englewood Cliffs, NJ (PRWEB) August 09, 2012
Michael Margolin, DMD, is now offering patients another tool to aid in periodontal disease treatment. As a laser dentist who has trained on the Laser Assisted New Attachment Procedure, Dr. Margolin joins only about one percent of dental professionals across the country that are qualified to offer it to patients. Because gum or periodontal disease affects millions of people, Dr. Margolin is thrilled to be able to offer this new treatment to Englewood Cliffs patients at Margolin Dental Associates.
Even with millions of Americans suffering from gum or periodontal disease, only a small percentage of those who have gum disease actually seek treatment. With the new LANAP procedure, Dr. Margolin is hoping more patients will make dental care a higher priority. LANAP is only slightly invasive and doesn't cause very much pain for most patients, yet it provides excellent results for periodontal disease treatment.
Dr. Margolin treats patients using the Periolase MVP-7 laser. The procedure begins by using a special probe to measure the depth of the pockets where the gums may have begun to detach from the teeth. Next, the laser dentist will use short bursts from the laser to eliminate the bacteria that has collected in those pockets. Healthy tissue is left behind to help in the healing process, while diseased gum tissue is removed from the area and bone growth is stimulated.
There are many other serious health risks that are linked to gum disease in addition to the dental problems this disease causes. For instance, low birth-weight babies, heart disease, and diabetes are all linked to gum disease. Dr. Margolin wants to help patients avoid these issues by aggressively treating gum disease. The LANAP procedure is cleared by the FDA for periodontal disease treatment, and is an excellent alternative to some of the traditional methods of treatment. There is little down time for patients after the procedure, so it can be easy to fit it into one's schedule. For additional information on the LANAP procedure, visit newjerseylasergumdentist.com.
Margolin Dental Associates is a general practice offering patients personalized dental care Englewood Cliffs, NJ. Michael Margolin, D.M.D. received his B.A. in Economics from Ithaca College and earned a Doctor of Dental Medicine Degree from Fairleigh Dickinson University. After graduating he joined his father and his brother in a group practice where he has worked for the past 21 years. Dr. Margolin is part of one percent of dental professionals providing the most recent FDA cleared laser procedure for gum disease and periodontal treatment. To learn more about Margolin Dental Associates and their dental services visit their website at http://www.newjerseylasergumdentist.com and call (201) 399-4703.