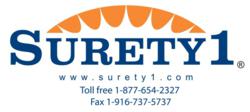 adding the car wash surety bond to our on-line application portal means we can provide the best possible service at the lowest cost in the industry
Sacramento, CA (PRWEB) August 10, 2012
Surety Solutions Insurance Services, Inc. (Surety1) now has California Car Wash surety bonds available through its east to use, on-line application. A car wash owner can apply in minutes and have an approval the same day with rates as low as 1%*. Christine Boscacci, Vice President and Director of Commercial Surety at Surety1 says: "adding the car wash surety bond to our on-line application portal means we can provide the best possible service at the lowest cost in the industry."
Car Wash Surety bonds are designed to protect the public, the workers at the car wash and the state of California, not the owner or operator of the car wash. The surety bond guarantees accordance with the various rules and regulations of operating a car wash—such as paying employees when due. The California requirement is a surety bond in the amount of $15,000 per location.
Surety1 also offers a knowledgeable and helpful staff. Superior customer service, a user-friendly online application process, and quick turnaround time make Surety Solutions Insurance Services the perfect place to purchase a surety bond. Surety1 takes pride in its ability to offer a superior product quickly and easily.
Surety Solutions Insurance Services, Inc. (Surety1) is an independent insurance agency based in Rancho Cordova, California and licensed in all fifty states. Surety Solutions Insurance Services, Inc. specializes in the placement of surety bonds and other specialty insurance products.
For more information on obtaining a California Car Wash Surety Bond, contact Surety Solutions through its website, http://www.surety1.com, by calling toll-free, 877-654-2327, or by emailing info(at)surety1(dot)com.
*Subject to underwriting approval