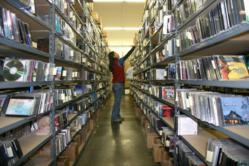 This year, our CD sales are actually up! I don't think anybody else can say that – not Walmart, not Best Buy, not the major labels."
Portland, OR (PRWEB) August 09, 2012
CD Baby, the largest distributor of independent music, has announced that 2012 CD sales are up over the prior year.
"We know that digital downloads are the 'here and now," said CD Baby president, Brian Felsen. "We've been distributing MP3 albums since 2004. But we're still seeing robust sales of compact discs in the independent community - and this year, our CD sales are actually up! I don't think anybody else can say that – not Walmart, not Best Buy, not the major labels."
The increase in CD Baby's CD sales is currently still in the low thousands of units but continues to trend upwards. Even small gains are an anomaly in an industry that continues to trend toward digital and away from physical media.
"At CD Baby, we've always believed you should pursue both physical AND digital distribution for your music, and we've worked hard to ensure that both provide solid revenue streams for our artists," said Felsen.
CD Baby attributes the increase in CD sales to three main drivers:

A recent partnership with global media giant Alliance Entertainment (a move which has expanded CD Baby's distribution reach to over 15,000 retail stores).
Catalog improvements. CD Baby has made great strides in ensuring that its entire catalog of hundreds of thousands of CDs is properly listed on Amazon and other online sellers.
Increased international efforts. CD Baby has been partnering with resellers in Argentina, Brazil, and Taiwan - with more on the way.
"CD sales are no longer the bread and butter of our operation," said Felsen, "but independent artists (and more importantly their fans) still want product. It's nice to know you can still have and hold a physical representation of the music you love."
###
CD Baby is the largest digital distributor of independent music in the world. CD Baby distributes over 4 million tracks to dozens of music retailers including iTunes, Amazon, Google Play, Rhapsody, and Spotify, and pays artists weekly for their product sales. From their Portland, OR headquarters, CD Baby warehouses and ships over 360,000 independent CD titles to a customer base that spans the entire globe. The company also offers other services to musicians such as the ability to accept credit cards at shows, web hosting through their sister company HostBaby, and eBook publishing through BookBaby.