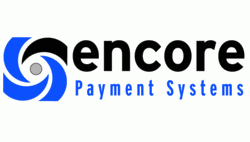 By accepting AMEX, small business owners don't have to turn down a customer simply because they can't accept the credit card.
Addison, TX (PRWEB) August 10, 2012
There are several reasons why most people choose to pay with a credit card; whether it's to invest in reward programs that earn airline miles or bonus points to just not having the cash on hand at the moment of purchase. Nearly 2 in every 3 purchases in the U.S. is made with a plastic card and most small business owners are aware of this fact. However, not accepting the right plastic cards can cost businesses a loss in extra revenue and customers. Enter Encore Payment Systems, a small business influencer and American Express preferred provider, now offering merchants the ability to accept all major credit cards, including American Express, with their secure lineup of credit card terminals.
American Express may not have the title as largest group of cardholders, but it holds reign with the highest purchase volume per user. 28% of American Express card members use only AMEX over any other major credit card and will look for the blue and white logo to determine whether or not to enter a business. By accepting AMEX, small business owners don't have to turn down a customer simply because they can't accept the credit card.
American Express is also an advocate for Small Businesses with its OPEN program providing the savings, rewards and tools that businesses rely on. Each American Express OPEN® Card comes with access to the essential benefits and protections only American Express can provide.
For further information on products and services provided by Encore Payment Systems,
visit http://www.encoreps.com/merchant_processing_products/
or contact marketing(at)encoreps.com
About Encore Payment Systems
Encore Payment Systems was established for the purpose of providing electronic payment processing solutions and other value-added services to small and medium-sized merchants throughout the United States. Encore is a leader in the electronic payment processing field providing credit card, debit card, ATM card, gift card, prepaid card, EBT and check processing services. Encore maintains a sincere dedication to superior customer service and an honest and ethical approach to acquiring new customers. This vision has enabled Encore to become one of the fastest growing companies in the industry excelling in all aspects of merchant services. Encore Payment Systems is located at 3801 Arapaho Road, Addison, Texas 75001. Please follow us on Twitter @EncorePS, like us on Facebook or visit Encore Payment Systems online at http://www.encoreps.com.
###