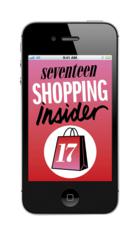 Seventeen's Back-to-School issue gives teens access to the biggest magazine mobile-activated shopping experience ever.
Arlington, MA and New York, NY (PRWEB) August 09, 2012
Seventeen, the best-selling teen beauty and fashion magazine, has launched Seventeen Shopping Insider, a mobile shopping companion app for iPhone, iPad and iTouch that unlocks scores of exclusive deals, freebies and style ideas for readers. Built by mobile marketing and technology services company, Nellymoser, Inc., the new magazine companion app debuts with Seventeen's September Back-to-School issue and gives teens access to the biggest magazine mobile-activated shopping experience ever. Seventeen Shopping Insider is free and available now on the App Store.
The September issue of Seventeen features more than 250 mobile-activated photos and Seventeen-branded icons. Readers may use Seventeen Shopping Insider's built-in scanner on nearly every fashion or beauty image within the issue's editorial pages, then save the images to the app's shopping list. Select editorial items and advertisements feature a Seventeen-branded shopping bag icon, which unlocks discounts, freebies and sweepstakes such as $10 off a purchase of $50 or more at Aéropostale, 20% off full-priced items at G by Guess, 20% off full-priced items at 2b bebe, 20% off full-priced items at Bakers, free trial-size samples of Biore complexion clearing products, a free gift with the purchase of NYC Big Bold Mascara and more. Mobile flipbooks and videos feature the latest trends and product info, and readers can share items they covet on Facebook and Twitter.
"Seventeen's Shopping Insider gives our readers more of the exclusive discounts, sweepstakes and style tips they love through the device that never leaves their hands," said Howard Grier, Associate Publisher, Marketing of Seventeen. "We're connecting with our readers like never before and driving commerce for our partners: girls can create a shopping list of pieces directly from our pages and take it right into the stores."
"Nellymoser's mobile companion app enhance Seventeen's brand connection with readers," said John Puterbaugh, Founder and CEO of Nellymoser. "With the magazine in one hand and the companion app in the other, the reader can engage further with the publication. In addition, Seventeen will learn more about exactly what in the magazine interests their readers most. It's a powerful tool for editorial and advertising alike."
About the Nellymoser Companion App
Seventeen Shopping Insider is modeled on the Nellymoser Companion App, a feature-rich app that maximizes reader engagement for print magazines. The Nellymoser Companion App incorporates a scanner that interacts with every type of action code to launch mobile experiences such as: watching a product video, entering a sweepstakes or redeeming a coupon. Additionally, the app includes a rich media player for superb audio and video, and an HTML5 browser. Advanced features such as the ability to create customizable icons let publishers extend their brand across App Stores, mobile devices and print. Social media integration lets readers share content with friends on Facebook, Twitter and Pinterest.
About Nellymoser
Nellymoser, Inc., (http://www.nellymoser.com), a mobile marketing and technology services company founded in 2000 and headquartered in Arlington, MA, creates interactive consumer experiences on mobile phones. The company is expert in producing mobile-activated print campaigns, companion apps and mobile-optimized web sites that engage consumers, foster brand loyalty and drive revenue for clients. Nellymoser's customers include leading publishers, advertisers, retailers, and consumer packaged goods companies.
About Seventeen
Seventeen (http://www.seventeen.com) is the best-selling monthly teen magazine, reaching more than 13 million readers every month. In each issue, Seventeen reports on the latest in fashion, beauty, health and entertainment, as well as information and advice on the complex real-life issues that young women face every day. Readers can interact with the brand on the digital front, with the Seventeen Ultimate Fashion Flipbook iphone app as well as with the monthly edition of the magazine on the iPad. In addition to its U.S. flagship, Seventeen publishes 13 editions around the world. Seventeen is published by Hearst Magazines, one of the nation's largest diversified communications companies. With its acquisition of Lagardère SCA's 100 titles in 14 countries outside of France, Hearst Magazines now publishes more than 300 editions around the world, including 20 U.S. titles. Hearst Magazines is a leading publisher of monthly magazines in the U.S. in terms of total circulation and reaches 82 million adults (Spring 2012 MRI). Follow Seventeen on Twitter, on Tumblr and on Facebook.
All companies and products listed herein are trademarks or registered trademarks of their respective holders.
###