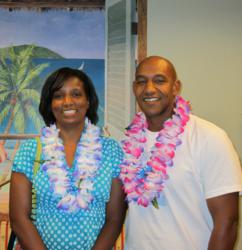 I always pictured myself on stage, going on tour in concert. Now I see myself going on tour with Maui Wowi. Each event is a concert and I'm getting a big check at the end of the show.
Greenwood Village, CO (PRWEB) August 09, 2012
Maui Wowi Hawaiian, http://www.mauiwowifranchise.com, makes it a family affair with their newest Franchisee, Damon Crutchfield in New Orleans, Louisiana. Damon and his wife will be joined by their three sons who together, plan to build the coffee and smoothie brand into a household name in "The Big Easy."
"Maui Wowi was the perfect fit in my idea of being an entrepreneur, and I saw it as something that the whole family could get involved in," Crutchfield said. "We felt the best thing we could do for our sons was to have a business that we could pass on to them as they decide what they want to do with their lives."
Crutchfield investigated many different franchise opportunities on his quest to becoming an entrepreneur but when he saw Maui Wowi, it caught his attention. As he continued to research the company, the products, which include all-natural, fresh fruit smoothies and premium Hawaiian coffees, made it even more appealing to him.
Through the process, Crutchfield began to realize the benefits of a dual concept that offered healthy products and provided support through a proven system. He plans to begin his family business with a mobile event unit called the Ka'anapali Cart which can be easily transported to the many events and festivals that fill the streets of New Orleans every day.
"I've been living in New Orleans all my life, but as I've been looking at this opportunity with Maui Wowi, I've been noticing all the events in the area that I've never noticed before," said Crutchfield.
Taking advantage of the city's robust cultural and musical scene will also allow Crutchfield to live out another dream of his. "I always pictured myself on stage, going on tour in concert; now I see myself going on tour with Maui Wowi. Each event is a concert and I'm getting a big check at the end of the show," he says.
As a firefighter, Crutchfield is already a bit of a local celebrity. The flexibility of his job as well as his established foundation within the community, will allow him to reach out to organizations that could become gateways for new opportunities in his Maui Wowi business. Down the line, Crutchfield ultimately envisions owning a fixed Maui Wowi location where he can tie together his mobile business and use the location as a spring board for events, he says.
"Maui Wowi has the right product that allows the whole family to get involved and we look forward to building a family empire with the support of Maui Wowi," said Crutchfield.
About Maui Wowi Hawaiian Coffees & Smoothies:
Since 1982, Maui Wowi Hawaiian has embraced the Hawaiian culture and has been serving paradise in a cup since the day it began, 30 years ago. From event carts, mall kiosks and stand-alone retail locations Maui Wowi Hawaiian offers premium, all-natural, gluten-free, fresh-fruit smoothies, as well as gourmet Hawaiian coffees and espresso beverages. With over 605 operating units in 9 countries, Maui Wowi Hawaiian has truly gone "Global" by adding an online store, shop.mauiwowi.com. Now customers from anywhere in the world can experience our prized-gourmet Hawaiian coffees and taste the 'Aloha Spirit' with a 'Click-of-a button'! To learn more information about Maui Wowi Hawaiian's, products, locations, or flexible, low cost franchising opportunities, visit http://www.mauiwowifranchise.com.