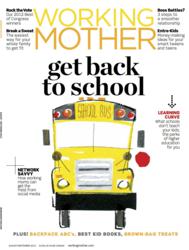 Working Mother magazine gives 5 critical life lessons that schools don't teach our kids including learning to fail and self-advocacy.
New York, NY (PRWEB) August 09, 2012
As back to school season weighs on the minds of parents, Working Mother gives 5 critical life lessons that "schools don't teach our kids," including learning to fail, self-advocacy and how to talk to grown-ups. The http:// strategies for moms are featured in the August/September issue of the magazine and on workingmother.com.
Here are 5 essential life skills schools often miss:
Learning to Fail: "It will be a tough load into adulthood...if your child can't learn from losing moments. Rebecca "Kiki" Weingarten, an education and life coach here, says, "If you're not preparing your kids to take the slings and the arrows, they may fall apart when they experience something negative." Your Strategy: Turn your child's failure into a problem-solving session Talk about what she did right, what she did wrong and how she can improve the next time, says Weingarten. Next time something doesn't go your child's way, get his or her advice on how to handle it.
Feeling for Others: Empathy is a key skill for getting along with others in school and the future workforce, says Working Mother. Your Strategy: With a younger child, read a story that features a problem, such as bullying or homelessness to discuss. With an older child, speak with concern about others' plights, and encourage your kids to express himself.
Singular Focus: Focus is the only way you finish and achieve anything, says Weingarten. Your Strategy: Set an electronics-free hour nightly, when everyone has to focus on conversation and have your child set specific daily time slots for homework. Have younger children help you plan and complete a task.
Self-Advocacy: "Being able to self-advocate supports a child's independence," says Suzita Chocran, a psychologist, parenting blogger and mom of three in Boulder, CO. "It allows her to steer toward her own life goals. Your Strategy: Have your child order for herself in a restaurant and pick out her own library books. Help her prepare for classmate or teacher issue through role play.
Talking to Grown-ups: Being able to converse well, especially with adults, builds strong, positive relationships with teachers, coaches and other parents in your child's life, says Cochran. Your strategy: Remind your child often what you expect of him when it comes to polite conversation and model how to address and respond to adults in different situations. __title__ life lessons]