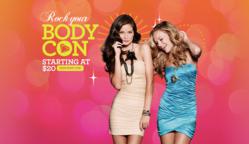 "Our customers are inherently social – they're on the move and they want to share their experiences with their friends – and they don't want to be limited by their location or device."
San Francisco, CA (PRWEB) August 09, 2012
Fluid Inc., an award-winning digital agency and creator of on-demand, e-commerce solutions for retailers, has teamed up with specialty, mall-based retailer Charlotte Russe to launch the brand's newly redesigned ecommerce web and mobile sites.
The "fast fashion" seller of trendy, value-priced apparel, shoes and accessories tapped Fluid's proven history as a retail-focused creative and interactive agency leader to design and build a digital retail hub for the brand that engages its millennial shoppers, attracts new customers, and drives them to conversion.
"Our customers are inherently social – they're on the move and they want to share their experiences with their friends – and they don't want to be limited by their location or device," said Evelyn Lee, senior vice president of marketing and ecommerce at Charlotte Russe. "Now, regardless of how they access our brand, they'll never miss a promotion or a Facebook conversation related to their favorite products."
From the user experience to the visual design, the mobile and online sites were built with Charlotte Russe's youthful, on-the-go consumers in mind. The design team implemented rich, visual merchandising across both channels, and designed and integrated a Facebook network that strengthens the Charlotte Russe community of shoppers and enables conversations to unfold on the entire shopping experience. The strategy and design for the Facebook integration on http://www.CharlotteRusse.com was created by the Fluid agency team.
"This functionality mimics the Charlotte Russe offline, in-store experience by showing a Facebook feed of other shoppers who are viewing, commenting on and buying products," said Kent Deverell, CEO of Fluid Inc. "Millennials are our most demanding digital buyers because they're technically very savvy and they've come to expect all the capabilities that come with today's ecommerce experiences. Charlotte Russe is delivering on those expectations, and they now greet online and offline consumers with one unified voice and experience that will undoubtedly increase online conversion rates and drive in-store traffic."
About Charlotte Russe Holding Inc.
Charlotte Russe is a growing, mall-based specialty retailer of fashionable, value-priced apparel and accessories. Charlotte Russe provides exciting, fashion-forward merchandise that appeals to a broad range of customers, with a core emphasis on the lifestyle trends of young women in their teens and twenties. Charlotte Russe operates more than 500 stores throughout 45 states and Puerto Rico.
About Fluid Inc.
Fluid's award-winning digital agency services and on-demand Fluid Retail Platform of online visual merchandising solutions incite consumer action. Our work for world-class customers like Charlotte Russe, The North Face, Quidsi Brands, Sears, Benefit Cosmetics, JELD-WEN, and Brooks Brothers spans consumer experiences across the web, social and mobile. Brands and retailers tap our unique combination of strategic consulting, custom design and development services, and our scalable, easy-to-implement online visual merchandising products to delight and engage today's digitally savvy consumers, while building engagement, increasing brand loyalty and driving conversions.
Fluid is headquartered in San Francisco, with offices in New York and Chicago, and serves customers spanning the globe. For more information, visit http://www.fluid.com, and follow us on Twitter @Fluid or Facebook/FluidInc.