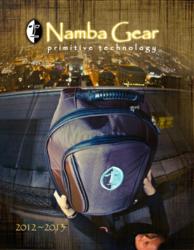 Airplane travel is nature's way of making you look like your passport photo. - Al Gore
(PRWEB) August 09, 2012
Namba Gear, premium laptop bag manufacturer for musicians and djs, announces the publication of their first product catalog. Namba Gear used customer photos from their recent photo contest for the catalog's images. DJ Darren D's iPad winning photo from Club 747 in the penthouse of the highest building in Montreal, Canada adorns the front cover. Dave Cook's photo from Sydney, Australia while on tour with singer Taylor Swift occupies the back cover.
Namba Gear's catalog has been described as "vibey", in part because of the interesting travel quotations sprinkled throughout the publication.
A .pdf version of the catalog is availabe for download on the front page of Namba Gear's website.
Namba Gear products are available via musical instrument & dj retailers, Amazon.com, Best Buy online, as well as through Namba Gear's online webstore.
About Namba Gear:
Namba Gear is a Portland, Oregon based bag and accessories company that designs and produces premium, high performance transport solutions for the working musician. The essence of the brand is defined by the working musicians and dj's at Namba Gear who are dedicated to creating and delivering exceptional carrying solutions that will stand up to the unique and rigorous workload of professional musicians.