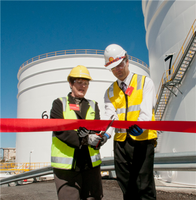 Most mining companies try to support businesses in local communities .... they will be looking online for what they need
(PRWEB) August 09, 2012
Shell Australia has just added two new diesel fuel storage tanks to the Mackay, Queensland, Terminal. This is a move that local Mackay online business support company, Snap Easy Websites, believes points to the area's future growth and prosperity - and the need for all Mackay businesses to have an online presence.
"Shell has made it clear that the new tanks have been commissioned to meet the current and projected demand for fuel, as its customers' businesses grow" said Cheryl Eagers, of Snap Easy Websites. "Of course Australia's resources boom is the driving force behind this growth, and each of those mining, oil and gas projects create great business opportunities for businesses in Far North Queensland."
Mayor of Mackay Regional Council, Deirdre Comerford, in launching the new tankage said "I am glad two new diesel storage tanks have been built in Mackay to support our development and help our region continue to grow and prosper."
The Mackay Website Advantage
Ms Eagers believes that it will be those businesses with websites Mackay-focused that will benefit the most from the region's growth, as resources and industrial companies often look to local suppliers for goods and services.
"Most mining companies try to support businesses in local communities, so those operations in the Bowen Basin, the ones that will benefit greatly from Shell's greater capacity, will be looking to Mackay" Ms Eagers said. "But they won't be pounding the pavement, or checking the Yellow Pages - they will be looking online for what they need. Mackay businesses with easy to find and navigate websites are the ones who will reap the rewards."
The Snap Easy Websites business has been instrumental in fostering the ability for Mackay businesses to acquire an online presence by offering a variety of options that reflect a business' size and budget.
"Our Mackay websites customers are the proactive ones - those who acknowledge the need to be online, even with a simple website. They 'get' that their well-constructed website is their 24 hour a day receptionist" explained Ms Eagers.
More information about growing your business with a Mackay website, contact SnapEasyWebsites.com
About Snap Easy Websites
Snap Easy Websites is a provider of a range of online marketing services to businesses of all sizes.
David Phillps and Cheryl Eagers formally established Snap Easy in 2011. What sets them apart from many website providers is that David and Cheryl are business people, who have established and run successful small and medium enterprises (SMEs). They know how business works, and understand the financial and staffing constraints under which they operate.
In fact, it was through the frustration (and massive overcharging) involved in having someone create a website for one of their businesses that made them realise that only people who understand business could deliver effective and appropriate online services for other businesses.
Over the next few years they learned from the best of the best in areas of website design, search engine optimisation, social media marketing and website content creation. And they learned how, by engaging experts in each niche, they are able to pull the whole thing together for their clients – without all the tech-talk, and always with a eye on the bottom line.
So that is the Snap Easy Websites story so far. We are proud to be making a real difference to our clients' business – to see just a few of the websites we have created for them, visit Far North Queensland websites.