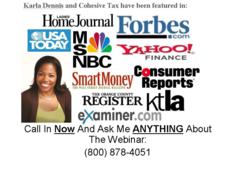 (PRWEB) August 08, 2012
This announcement is about the Forbes Magazine Article featuring tax guru and business consultant, Karla Dennis, in the September 2012 issue of Forbes Magazine. Karla Dennis has spoken about taxes, investments and real estate issues with business owners all over the country and what people should do moving forward once they are equipped with the info she provides.
Accordingly, Forbes Magazine has recognized her expertise and has selected he to be one of a rare and select group of professionals they feature. She is simply being recognized as on of the nation's foremost financial and tax professionals.
Anyone interested in seeing how Forbes portrays Karla need look no further than the link below. The title of the article is "Southern California Women Business Leaders". Based out of Southern California, her business has been thriving for twenty two years.
Click Here To Get A Copy Of The Article.
Get a free look at the article that features Karla Dennis as one of the most sought-after experts in the financial field. Get an inside look at the thoughts of a tax guru as she reveals her philosophy of taxes and monetary information. As she often releases free information and webinars and teleconferences for the public to join in and access or listen to, you can discover how to save cash and spend less on taxes. This is really the kind of information each taxpayer needs.
Karla Dennis is the Founder and CEO of Cohesive Tax, which is a tax consultant firm. Karla Dennis is actively sought as a tax expert by the media and has been quoted by Smart Money, CNBC, Consumer Reports and MSNBC. She actively speaks to various business leaders, executive organizations, trade groups, community factions and civic gatherings and area Chambers of Commerce.