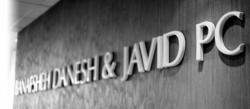 Beverly HIlls, CA (PRWEB) August 09, 2012
The California personal injury law firm of Banafsheh, Danesh & Javid, P.C. have gained another victory for one of their many motorcycle accident injury victims. In this case (Los Angeles Superior Court Case No. KC062019), their client, the plaintiff was riding his 2003 Yamaha motorcycle southbound on 7th Avenue south of Don Julian Road in the city of industry.
According to court documents, the defendant was traveling in his work semi-truck on the same road, in the same direction as the plaintiff, when he turned into a driveway in front of the plaintiff, causing the motorcycle injury accident.
BD&J Law's client's injuries were substantial, as most motorcycle accident injuries tend to be. He was admitted to the hospital and was forced to undergo routine doctor visits, rehabilitation therapy and checkups on a near daily basis.
According to court records, the plaintiff was also unable to work following his accident and has been unable to function as an employee since that time. His motorcycle accident Lawyers argued that plaintiff was not at fault in the injury accident and that the defendant and his employer should have to compensate him for his losses, which were substantial.
Los Angeles Motorcycle Accident Law Firm Sought Full Compensation
With the increased risk that motorcyclists endure when being involved in vehicle accidents, especially accidents with a large auto like a semi-truck, it is not uncommon that their attorneys seek compensation for a range of expenses, as was the case in this instance.
An experienced Motorcycle Accident Lawyer will attempt to seek maximum compensation for their clients, as Banafsheh, Danesh & Javid did for the plaintiff, addressing expenses like:

current and future medical bills;
time out from work;
property damage (when applicable)
rehabilitation or physical therapy costs
pain and suffering
loss of loved one or companionship
other economic and non-economic factors
About Banafsheh, Danesh & Javid, P.C.
Banafsheh, Danesh & Javid, P.C., is a well-respected personal injury law firm based in Beverly Hills, California, that represents accident and injury victims throughout Los Angeles County and surrounding areas, including Orange County, San Francisco, San Diego, Riverside, San Bernardino, San Jose, Sacramento and all points in between. The firm's http://www.bdjinjurylawyers.com handle cases on a contingency fee basis, not charging a fee unless they can gain a recovery for their clients. They practice all form of personal injury law including but not limited to car accidents, motorcycle accidents, truck accidents, pedestrian injuries, brain injuries, wrongful death and other serious injury claims.
The firm also features a staff that speaks Spanish, Italian, Farsi and Hebrew in addition to English and offers free consultations via their toll free number 800-820-1111.
###