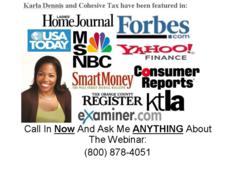 Cypress, Calif. (PRWEB) August 09, 2012
Tax guru, CEO and Founder of Cohesive Karla Dennis, has started an invitation only Tax Planning and Income Creation Boot Camp, a program meant to guide and mentor those who need strategic tax planning and financial guidance, which will begin on Wednesday September 5th 2012, and will conclude eight weeks later on October 24th.
Only 10 people will be accepted into this invitation only event. Meaning the first 10 people to commit to the bootcamp get to learn from Karla Dennis. Tax boot camp will consist of eight webinar coaching sessions with Karla in which clients will learn how to create multiple revenue streams, create products that will sell, and understand how to get revenue moving through their company quickly. Clients will walk away with an understanding of how to harness their talents and make cash will doing it. The boot camp will end with a one on one phone call with Karla.
Karla normally charges up to $350 an hour for a phone consultation. The boot camp includes Karla's guidance and much, much more.
In a struggling economy, this boot camp will give people the tools to maintain a successful business. Karla Dennis states, "I wanted to create a way in which people would have a more intimate coaching session. I believe that that people will walk away with a strategic tax plan that will benefit their business."
To be one of the first of the ten to join this bootcamp, click here to register now.