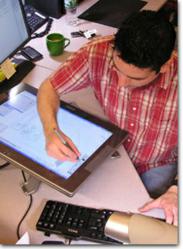 "When coupled with the appropriate programs, the Cintiq is unmatched as the most powerful tool in the designer's arsenal," explains Roy Whitson, Senior Industrial Designer at Helix
Manchester, NH (PRWEB) August 10, 2012
As technologies jettison forward with breathtaking speed in the world of product development, what better way is there to keep right on the cutting edge then by mixing the most advanced tools with an environmentally conscious approach?
Helix Design, of Manchester, New Hampshire, has done just that. With the incorporation and extensive use of Cintiq tablets for the past several years, the industrial design firm recently unveiled how they have been able to not only offer the world's most advanced technology for its global clients, but keep with the "going green" mentality simultaneously.
Distributed by the Vancouver, Washington company Wacom, Cintiq tablets are enabling preeminent design teams like Helix to offer advanced solutions for their clients far more quickly and efficiently than could have been imagined in years past.
"When coupled with the appropriate programs, the Cintiq is unmatched as the most powerful tool in the designer's arsenal," explains Roy Whitson, Senior Industrial Designer at Helix. "The ability to make infinite adjustments, create and edit directly with 3D, vector and raster files in an intuitive way gives the designer the opportunity to focus more energy on the design process."
As for the product itself, imagine tossing away the old graphite pencils and paper pads and replacing them with high-speed technology which only previously existed in the realm of science fiction.
"The Cintiq is a large format sketch tablet display that accepts pressure sensitive input from a stylus. Additional useful features include quick key selections on the outer frame for short cuts or combinations of actions within a sketch program," Whitson says. "There are various mounting options available that allow the user to lay the display flat and rotate it or cantilever the system from the table edge."
When it comes to serving their clients, Helix uses this technology improve their overall services and experience, while decreasing waste in the ever-increasingly environmentally-conscious industry.
"The versatility and speed of the tablet compared to paper is significant. Infinite virtual tools, color, layering and adjustability in a digital format eliminates the need for paper and expensive traditional methods," Whitson explains. "They provide a solid sustainable method of development, reduces waste of materials, and enables us to provide our clients with very high quality work that can be quickly updated and refined, saving time and money."
"It is exciting that more design schools are training with tablets in addition to traditional techniques," adds Whitson. "Although they offer a great number of advantages, the instant collaboration that is possible between design teams, clients and manufacturers on a global scale is truly incredible, evolving product development to a whole new level."
Founded by multi-patent owner Joe Schappler, Helix Design has a long list of awards to its credit over the years. Their recent design for DeLorme's inReach two-way satellite communications device alone snagged Helix a number of prestigious achievements, including the 2012 International CES Innovations Design and Engineering Award, the 2012 Backpacker Editors' Choice Award, the 2012 National Marine Manufacturers Association Innovation Award for Consumer Electronics, the 2011 Men's Journal Gear of the Year Award, the 2011 Popular Science best of What's New, the 2011 Outside Magazine Gear of the Show Award, the National Geographic Adventure Gear of the Year Award, and the 2011 GearJunkie.com best of Show Award.
For its worldwide clients, Helix offers a wide variety of product design services including industrial design, mechanical engineering, models and prototypes, manufacturing services, design research, user interaction and ergonomics and project management.
To learn more about Cintiq tablets, visit the official Wacom website at http://www.wacom.com.
To learn more about Helix Design, which is located at 175 Lincoln Street, and the many services that they offer, call (603) 644-1408, or visit their website at http://www.HelixDesign.com.