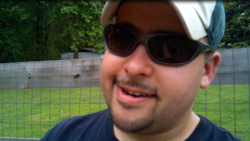 Eating healthy on the go is hard for everyone these days. We have to find ways to adapt and overcome! Making "green" smoothies is a way to pack nutrition into a fast meal and it leaves you feeling great.
Durham, NC (PRWEB) August 09, 2012
He's not sure exactly where he picked up the habit but NC organic gardener, Derek Edwards, has been making "green" smoothies for over 4 years. Over this time he's added different ingredients by reading about "superfoods" and reading about recipes online. Now he's using his blog to help teach others how to make green smoothies.
"I've tried a lot of different things", says Derek, "and the things that I've used are all proven to be very healthy for you. I think it tastes great too. A lot of people don't realize that you can have broccoli and kale for breakfast and not even taste it."
Making smoothies at home is nothing new but designing them to be nutritional powerhouses is not something that many people are familiar with. Many organic ingredients are used to get a synergistic healthy effect.
"Personally I think it tastes like dessert for breakfast. I think if you're serious about trying to eat healthy then it makes sense to at least give green smoothies a real try. They're fast, affordable, and well worth the feeling you get knowing that it's so good for you."
Derek uses his blog, First Time Farmer TV, to help get the message out about practical organic living. He welcomes input and questions from those interested in sustainable living.