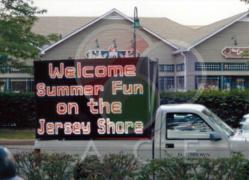 "The possibilities are endless." "Everyone is saying, 'Look at That Sign!'" Owen Brown, owner of Tourist Information Vehicles
Manasquan, NJ (PRWEB) August 16, 2012
Tourist Information Vehicles in Manasquan, NJ, otherwise known as "That Sign!" is a unique company with a unique approach to advertising. Owner and businessman Owen Brown is helping the local economy by offering a better way to advertise: Using a full color LED sign...on a truck.
Manasquan is a relatively small beach town, but also a major tourist destination recently voted as one of top ten beach destinations in the state.
"We go from approximately 6,000 people to over 40,000 during the summer season." explained Mr. Brown " This provides major opportunities for our local business and economy."
Advertising in Manasquan poses unique challenges, specifically for businesses that aren't directly viewable from the beach, or not on direct routes. As a resident for close to 60 years, and an owner of several businesses, Mr. Brown understands these challenges first hand. Always looking for creative solutions, he had the idea for a mobile advertising platform over 7 years ago while watching an airplane banner in the sky.
"I could do the same thing," he said, "driving up and down the streets and local highways, offering the advertising at a reasonable price"
It took some time to put the right technology, funding, and logistics into place, but Brown always kept the idea moving. After researching local and regional laws and confirming with several municipalities that his idea was street legal, he began a search for an LED sign provider earlier this year, eventually leading him to ACE LED Displays, a dealer for U.S. based manufacturer Vantage LED.
"I started looking on the internet at all these sign companies. It was mind boggling; who do you pick? Who can you trust?" he said.
After reading in the local paper about an LED sign in the nearby town of Belmar, he gave them a call to inquire on the source and was happy to get a positive referral to ACE LED Displays, one of the companies he was already looking at.
"They happened to be one of the three or four sign companies that really stuck in my mind. So I called them up and asked them a few questions" he said.
ACE LED Displays is a dealer for Vantage LED, a manufacturer in Corona, CA, who produces high quality LED signs with U.S. based engineering, manufacturing, support and software development. ACE LED offers the standard line of full color LED signs as well as LED price changers and custom cabinets.
Based on the strong referral from Belmar, and his own discussions with ACE LED he placed his order in April, and the sign shipped out in late May. He worked with Woleks Ironworks, another local business, to fabricate the mounting structure to his truck and finished the project in June. So far the response has been great.
"I talk to so many people. They will call me up or see me in town and say 'Hey man, I saw the sign, it looks really good!'"
He plans to cover much of the coastal area in Monmouth County including Ocean Township, Asbury Park and Wall Township. He takes a customized approach to the services by offering daily, weekly, monthly and seasonal rates. In addition, Brown explained that he plans to donate services to charitable events and organizations.
"We want to give back, too," he said, " you can really have a good time at these events, talking to people...just being friendly."
Mr. Brown's favorite feature of the sign is the ability to display virtually anything he wants in a matter of minutes. This is done using WiFi and Vantage LED's LightSpeed™ Media LED sign software powered by the internal Darwin™ control system.
"It's really simple and easy." he said, "The support team has also been great to work with... it's just all good vibes!"
Taking little ideas and bringing them into big reality is what makes our country great. Mr. Brown continues this tradition with his unique solution to a unique problem. He is very pleased with the results of the project and looks forward to a quick return on his investment. The feedback from the community has been positive; a confirmation to Mr. Brown that pairing his great idea with a great LED sign is a recipe for success.
"The possibilities are endless." he said "Everyone is saying, 'Look at That Sign!'"