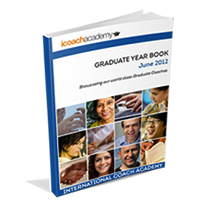 We are so very proud of our graduates who represent the richness of our student body and alumni. That's why we are so excited about our new Yearbook
Melbourne, Australia (PRWEB) August 21, 2012
The International Coach Academy (ICA) published the first ever coach training school yearbook for the June 2012 class of their coach certification program. Unique to ICA, the yearbook celebrates the achievements of 70 new graduates while capturing the strength and commitment of the global and virtual ICA community.
The ICA Graduate Yearbook profiles every student with a photo, a link to their website and a link to their 'portfolio' of work including their Coaching Tool, Coaching Research Paper, and Coaching Model. These tools and models, unique to ICA, help the graduates take a firm footing among the world's most competent coaches. Unlike most coaches in most schools who follow cookie cutter coaching models, ICA Graduates spend time developing their own unique approach to coaching, which results in a publication of over 210 original pieces of work on the topic of coaching.
This month ICA announces the graduation of 70 new life and executive coaches from their Certified Professional Coach training program. The students, who represent over 30 countries, have earned their Certificate of Professional Coaching in recognition of fulfilling ICA's rigorous assessment and graduation requirements.
According to CEO, Robyn Logan, ICA has been delivering the highest standards of professional coaching, International Coach Federation (ICF) accredited training for over 10 years. "We are so very proud of our graduates who represent the richness of our student body and alumni which include professional coaches, managers, teachers, health professionals, real estate agents – you name it. That's why we are so excited about our new Yearbook. It's a great way to tell the world about these amazing coaches and their amazing experience here at ICA."
To read the ICA Yearbook Book click here
Globally more than 5,000 students have attended the International Coach Academy from more than 90 countries. Today, with over 60 full and part time staff and trainers located throughout the world, ICA operates around the clock, over multiple time zones. Students access courses from their homes and yet engage with people from every corner of the world.
ICA fosters worldwide connection among established and prospective coaches as well as those who use the coaching process in their business, their art, and their relationships.
ICA's Coaching Teleseminars regularly attract 500+ participants a month, bringing together people from all over the world who have an interest in learning more about the professional coach certification. Participants are leaving more excited to apply what they have learned about being a successful coach. ICA's Teleseminar host Merci Miglino, explains, "We are delighted to offer relevant and valuable information through our monthly speaker series and educational programs to meet the increasing demand for support in the coaching field."
# # #
About International Coach Academy.
International Coach Academy is one of the world's leading providers of coach training programs and certification. We are a well-established school for those who want to be a coach. Here adults become professional coaches while sharing and connecting with a global coaching community. We are extraordinary people who are bringing the power of coaching – the realization of the human potential for creativity and resourcefulness – to changing the world for the better.