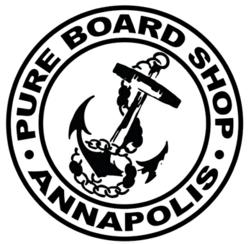 Annapolis, MD (PRWEB) August 09, 2012
Summer isn't over yet! And with back to school right around the corner, kids are pouring into the shop looking for new gear. These guys love the Pure Board Shop line up of clothing and the Tank Tops have never been hotter. Pure sells out of these all the time. The combination of 6 different colors, great material, and a killer logo make this tank a best seller in the shop. This is why Pure has gotten such a big order of tanks. People want them and they will sell.
Pure Board Shop has a line of clothing that can rival quite a few companies. Pure's logo can be found on everything from boardshorts to snapbacks to golf pants to teeshirts. Pure Board Shop's clothing is top of the line gear.
Pure Board Shop opened its doors on May of 2005. Its ease of access and parking make it a destination shop for riders and urban street ware fans alike. With their mix of products and variety in skate, snow, surf and exclusive streetwear and shoe brands Pure's customers extend far beyond their Annapolis location. Pure prides itself on making customer service its number one priority, with product knowledge and having the right product mix a close second. The store and the website feature an ever growing brand inventory such as Nike SB, Nike Snowboarding, Adidas skateboarding, Vans, Diamond, HUF, LRG, Neff, RVCA and The Hundreds, as well as a large selection of Sunglasses and other accessories. The shop also prides itself on having the largest variety of longboard equipment in the area; with brands like Land Yactz, Rayne, Caliber, Cult Wheels, Abec11 and many more. Pure puts on monthly skateboard jams/events in their local skateboard park as well as sponsors many longboard slide jams and races in the DC Metro Area.
Contact Pure at 410-267-7669 or visit them on the web at http://www.pureboardshop.com/blog