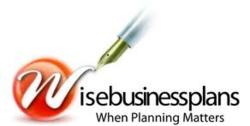 We made our name in business plans but our philosophy and skill set allows us to effectively develop any written business communication effectively
Las Vegas, Nevada (PRWEB) August 20, 2012
"We made our name in business plans but our philosophy and skill set allows us to effectively develop any written business communication effectively", says Joe Ferriolo, director of Wise Business Plans. "What we have found is that in many cases, clients need an experience that allows them to pick and choose the elements that they need. With that being said we have infused an element of flexibility into our business model in an effort to better service these needs". Extended services that are now being offered through Wise Business Plans include:
1. Refreshing services: "A lot of times, clients may have a business or marketing plan that was created some time ago and they simply need to refresh it", says Mr. Ferriolo. With this thought in mind Wise Business Plans has a staff of professional writers that are capable of refreshing the document and placing the client on a renewed path of success.
2. Ala Carte Services: "The client may not need an entire business plan; sometimes they just need an executive summary or market analysis or five year financials", says Mr. Ferriolo. To address this growing trend, Wise Business Plans has developed a cost effective, flexible ala carte service that gives the client the ability to pick the business plan components that best fit their needs.
3. Marketing Plan: A custom written marketing plan focuses on your businesses marketing efforts. The plan centers around how you will market your services and to whom. Developing the return-on-investment on marketing is a vital component of the marketing plan.
4. Grant Writing: A plan written specifically for the purpose of applying for a grant. Grants are offered by the government, corporations, foundations or trusts. Most often grants are written for government funds.
5. Executive Summary: Addresses the key elements and topics the business plan. The executive summary is a high overview of business and management.
6. Financial Modeling: Undoubtedly, one of the most challenging sections of the business plan. Financial Modeling includes the Profit & Loss Statement, Loan Analysis, Balance Sheet, Cash Flow Statement, Sales Forecast, Personnel Forecast, and Break-even Analysis.
7. Business Proposal: A custom written business proposal is written to pitch your product or services. A business proposal is intended to persuade your audience on why they should do business with your company.
8. Website Content Writing: Making an impression when customers visit your website. Writing content for your website should incorporate keywords for SEO rankings.
9. Article Writing: Article writing is an easy way to promote your products or services. We can help you write effective articles for you to post on your website or blog.
10. Press Releases: A press release, also known as a news release, is a written statement to the media.
About Wise Business Plans
All projects produced by Wise Business Plans are professional written and place the client in the best possible position to reach their desired levels of success. From biographies to ala carte business plan services, the professionals at Wise Business Plans are capable of effectively managing a variety of client needs. Visit http://www.wisebusinessplans.com or call 1-800-496-1056 to schedule a consultation.