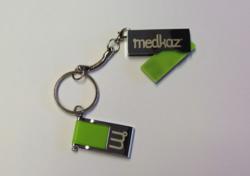 the MedKaz is the only system that integrates a patient's records from disparate care provider systems into a single system that every doctor can use
Brownsville, Vermont (PRWEB) August 09, 2012
Health Record Corporation (HRC), creator of the patented MedKaz®, and Care.Com, the largest online care destination in the world, have joined forces in the second employer-based pilot study of the MedKaz, a revolutionary personal health record system. The MedKaz and pilot study were unveiled Wednesday, August 8th at Care.Com's Waltham, MA headquarters by Merle Bushkin, Founder and CEO of HRC, and Greg Rosensteel, HRC's Vice President and Chief Technology Officer.
Over the course of the 16-week pilot, approximately 100 of Care.Com's US employees will test-drive the MedKaz, a unique medical record system designed specifically for consumers. It complements whatever record system a physician or other care provider uses, and stores their records on a distinctive, secure portable device owned and controlled by the patient. Care.Com is the second employer to participate in HRC's pilot program, which also includes physician-driven pilots and a general public pilot.
Mr. Bushkin explains that "the MedKaz is the only system that integrates a patient's records from disparate care provider systems into a single system that every doctor can use to electronically access a patient's lifetime medical record at the point of care. And it is the only system that truly aligns the interests and meets the needs of both patients and care providers.
"With the MedKaz, patients have peace of mind and can participate in their care decisions. They know their records are always secure. They can read them to understand their condition and issues, and correct inaccuracies. They can share them electronically with family. They know their doctors and other care providers will have the information they need to provide better care. And they no longer have to fill out the same forms and answer the same questions over and over again!
"Care providers benefit as well. They finally have the patient information they need to practice better, lower-cost medicine. They can: avoid medical errors and improve the quality of care they provide; coordinate their patient's care with their patient's other providers; avoid redundant or unnecessary tests -- all while enjoying increased income, improved work flow and not having to change their record-keeping system. And for those providers reluctant to adopt an EMR system today, the MedKaz may be the catalyst that changes their minds as they grow accustomed to using digitized copies of their paper records rather than having to pull their paper charts."
In making the announcement, Mr. Bushkin said, "Care.Com is an ideal partner for this pilot study for multiple reasons. First, its employees are young, computer savvy and focused upon identifying and providing solutions for care challenges faced by families every day and can bring their expertise to bear as they use the MedKaz as consumers. Second, having an employer distribute the device is a real-world test of how we ultimately believe the MedKaz will be most widely distributed. And finally, Care.com's employee base includes many young families providing us with a new level of feedback on how well the MedKaz serves parents' needs."
Al Zink, Senior Vice President of Care.com, said,"We're delighted to be part of the MedKaz pilot study and to offer this benefit to our employees. Electronic medical records are the wave of the future and to be able to offer our employees a patient-focused system that is easy, secure, available now and comprehensive is exciting. And the vision of the MedKaz aligns beautifully with our mission at Care.com which is to provide families with solutions to care challenges."
About MedKaz and HRC:
The patented MedKaz is a revolutionary system that puts the patient at the center of their care by aggregating their lifetime medical record in one place, owned and controlled by them, where care providers can access them as needed. Unlike other medical record systems, the MedKaz: accepts records in all formats from all sources, overcoming record incompatibility; is secure from Internet breaches, easy to use, affordable, and available now; and doesn't require government subsidies or the construction of extensive electronic networks. It fits seamlessly into a care provider's established workflow, enabling improved quality and coordination of care, elimination of mistakes and unnecessary testing, and cost reductions. The Medkaz was created and is supported and distributed by Health Record Corporation, based in Brownsville, VT. For more information, please visit http://www.medkaz.com.
About Care.Com:
About Care.com, Inc.
Founded in 2006, Care.com (http://www.care.com) is now the largest online care destination in the world with 7 million members spanning more than 15 countries. Care.com provides a forum for families seeking care support to easily connect with millions of care providers, share caregiving experiences and get advice. The company addresses the unique lifecycle of care needs that each family goes through - child care, including special needs, senior care, pet care, housekeeping and more. Care.com also provides -e-tools and information to help families make safer and more informed decisions throughout the search and hiring process, including monitored messaging, access to background checks, recorded references, and an online safety guide. Fortune 500 companies, educational institutions, technology companies, and professional services firms offer Care.com memberships as a benefit to employees through its Workplace Solutions program.
Contacts:
For MedKaz/HRC:
Merle J. Bushkin
802 484-0249 (office)
802-230-6178 (Cell)
mbushkin(at)medkaz(dot)com
For Care.Com:
Meredith Robertson
781-693-1797
mrobertson(at)care(dot)com
# # #