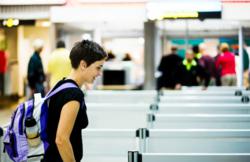 Women are usually targeted as they tend to be, on the whole, more trusting, and willing to listen and help.
(PRWEB) August 10, 2012
Following a string of arrests, a Guangzhou customs official said that drug traffickers and rogue luggage handlers often take advantage of pregnant women and minors to transport hidden drugs for them. With women making up nearly half the business and pleasure travel demographics in the United States, Australia and the UK, travel writer and author Victoria Ugarte warns women travelers about becoming unwitting drug mules.
Cases include the likes of two women from Sarawak who were detained at the Bukit Kayu Hitam checkpoint as they were attempting to enter Malaysia. Authorities found 11kg of syabu hidden in their baggage. Upon questioning, the two women confessed that they had been asked by an African friend to help carry the bags into Malaysia but did not know that drugs had been hidden inside the bag.
On May 6, 2011 Guangzhou customs detained a Chinese woman returning from southeast Asia after 2,503 grams of heroin was found planted in her luggage.
However, no other case is quite as tragic as that of Noor Atiqah "Iqah" M. Lasim, a 27 year old Singaporean who was sentenced to death in 2011 by Shah Alam's High Court for drug trafficking. Meeting a Nigerian national named Valentine at a night club in Clarke Quay in June 2008, Iqah accepted a proposal of setting up a fashion business together with him, along with plans to embark on sourcing trips to and from China. Months later, believing a bag she was carrying to Shenzhen was for sales samples, a scanner at Kuala Lumpur immigrations revealed 342.1 grammes of heroin and 30.3 grammes of monoacethyl, stored in a brown envelope that was cleverly concealed in the luggage.
Author of "Travel Bible For Women", Victoria says, "Women are usually targeted as they tend to be, on the whole, more trusting, and willing to listen and help. Scammers will often trick them into carrying their drug-laden luggage by saying that their other luggage has exceeded the weight limit. Women should be extremely careful about carrying any sort of package or bag for anyone if they do not know what is inside."
Victoria shares some valuable travel precautionary tips with women travelers:

Never accept unsolicited help with your transport or your luggage. Many criminals operate out of airports and hotels and specifically target foreign visitors.
Keep your luggage locked, and in front of you, at all times when in airports, bus or train stations and at hotel check-ins.
A Secure Baggage Wrapping service takes only a minute, and is suitable for a wide range of luggage, carry bags, golf bags, prams, car seats, backpacks and boxes. Not only does it stop anyone stealing any of your things in transit, it prevents anyone planting anything illegal in your bags without your knowledge.
Never offer to carry someone else's luggage for them.
Do not discard your luggage receipt until you have safely retrieved your bags from the carousel and checked that they are yours. If your luggage appears to have been tampered with, do not pick it up off the carousel. Instead, report it to the airport officials immediately.
Find out from airport officials what an official taxi looks like and hail them from a major taxi rank. Never share taxis with people that you do not know.
Be suspicious of anyone asking you to bring a bag or package for them across border crossings. Investigations have revealed that the heightened security checks at international airports have forced drug trafficking syndicates to bring in drugs by land.
Avoid any public commotions. Scammers will make good use of any distraction that will divert your attention away from your belongings.
As a final warning, Victoria says, "Trust your intuition. If a person, place or situation doesn't feel right, avoid it altogether. Remember that while our governments will do what they can to help their citizens when they are arrested on drug charges, they are still bound by the penalties of that country, which may be much harsher than our own."
For more information on Victoria Ugarte and 'Travel Bible For Women', visit http://www.ExploreMyWorldTravel.com/
About 'Travel Bible For Women': Thinking of traveling alone but are concerned about safety? 'Travel Bible For Women' offers every woman a step-by-step and easy-to-read guide on planning the ultimate travel experience. Filled with the best safe travel tips, travel recommendations and resources, this book will give all women the freedom to discover their world with confidence and ease. 'Travel Bible For Women' is available on Amazon in Kindle version for $2.99 and in paperback for $14.95.