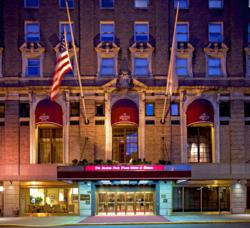 Jessica Klepacki is a keen sales professional who brings a wealth of experience of the Chicago market, where she has developed great relationships with many Fortune 500 companies and world renowned national associations." - Mark Anderson - General Manager
Boston, MA (PRWEB) August 10, 2012
As Senior Sales Manager, Ms. Klepacki will be responsible for all aspects of the hotel's sales efforts in Chicago, focusing on Midwest association market, reporting directly to Mary Neister, Director of Sales and Marketing for The Boston Park Plaza Hotel & Towers.
Ms. Klepacki earned a Bachelor of Science in Hospitality Management at Eastern Illinois University. She began her career as Sales Manager of the Hilton Chicago Indian Lakes Resort in 2008 where she earned the coveted titles of Sales Leader of the Quarter in 2009 and Sales Leader of the 1st Half of the Year in 2011.
"Jessica Klepacki is a keen sales professional who brings a wealth of experience of the Chicago market, where she has developed great relationships with many Fortune 500 companies and world renowned national associations. She is a results orientated individual who possesses a strong work ethic and a passion for sales. She will be tremendous assets to our sales team" says Mark Anderson, General Manager for The Boston Park Plaza Hotel & Towers.
About Boston Park Plaza Hotel - A Boston Hotel:
Boston Park Plaza Hotel & Towers is part of the rich history that defines Boston as one of the most beautiful cities in America and a top travel destination. This Boston Hotel is located in Back Bay, one of the most beautiful areas of the City – just yards from Boston Common, America's oldest Public Park.
This Luxury Boston Hotel conveys class and elegance throughout its exceptional Concierge and Guest Services, 941 finely-appointed Guest Rooms and Guest Suites, premier Dining with 9 on-site Restaurants including Melting Pot and the Statler's Lounge. Other Guest Services include a 24-hour Fitness Center, 24-hour Business Center, and 65,000-square-feet of exceptional Boston Meeting Space including the exquisite Boston Park Plaza Castle located across the street – one of Boston's most recognized and renowned Landmarks used exclusively for Boston Social Functions.
Since opening in 1927, Boston Park Plaza Hotel is recognized as a member of the Historic Hotels of America and a preferred Boston Hotel.
From Boston Park Hotel's ideal location, Business and Leisure Guests can easily access all that Boston has to offer including Funeuil Hall Marketplace, Boston's Historic Landmarks, Boston Common, Boston's Back Bay, world-renowned Newbury Street for Boston Shopping, Boston Attractions, and Boston Activities, and the Theatre and Financial Districts. Our Boston Hotel is located just 3 miles from Boston's Logan International Airport.
Visit this Boston Hotel Website.
View current Boston Hotel Specials & Boston Vacation Packages.
Take a Photo Tour of this Boston Hotel.
Check Rates, Make Reservations or call toll free: 800.225.2008.