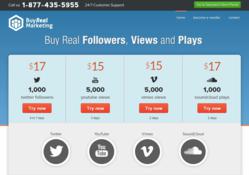 Agile marketing is a unique strategy valuable not only to the internal operations of a marketing and development team but also to clients as the primary recipients of the results
Ottawa, ON (PRWEB) August 09, 2012
As the controversy continues to weave around Mitt Romney and the case of bot accounts on Twitter, Buy Real Marketing, provider of Twitter followers, finds a kindred approach with agile marketing in reference to its service at http://www.buyrealmarketing.com/buy-twitter-followers.
Buy Real Marketing offers social following to personal and business profiles on major social networks such as Twitter, YouTube, Vimeo and SoundCloud. Its goal is to help small businesses gain traction and credibility through a large number of followers, fans or subscribers. With issues concerning the use of bot-profiles to generate social clout which according to Forbes.com is a growing industry of an underground buy and sell economy, it is easy to point fingers and see only the murky side of the whole marketing concept.
In view of what critics term as "placing a cheap price tag on followers," Buy Real Marketing highlights agile marketing as the core of its methodology.
What is Agile Marketing?
Agile marketing is a marketing approach that guides team efforts into determining what methods and strategies work best for a campaign through cycles of iterations. The agile way of marketing was derived from the agile software development where solutions evolved through collaboration between self-organizing, cross-functional teams that encourages a rapid and flexible response to change. In this case, change refers to digital evolution of the online market emphasizing the growing need to succeed fast at a low cost.
Buy Real Marketing follows the agile approach of marketing that takes into consideration speedy approach to success, focused communication channel, and making the most out of limited resources. These components are believed to largely affect businesses' entry and growth into their respective industries.
"Agile marketing is a unique strategy valuable not only to the internal operations of a marketing and development team but also to the clients as the primary recipients of the outcome," says JP Bisson, Managing Director of Buy Real Marketing.
"Buy Real Marketing as a team has adopted the agile way - and that the buy twitter followers service can be a strategy that business can try at a low cost, and fail or succeed with it," adds Business Development – Managing Director, Jonathan Kennedy.
Buy Real Marketing opens a doorway of opportunity for small businesses to acquire potential leads while they focus on what is important rather than waste time and money on tedious strategies that do not have immediate or valuable results.
Agile marketing advocates the same principle that places a central focus to consumers and their needs while working out a process that produces desirable and measurable results.
Buy Real Marketing is a company that offers services that help clients grow their business through social media. Other services they offer are YouTube and Vimeo views, and SoundCloud plays. Customer support is available 24/7 and services are offered with a 100% Money Back Guarantee.
To know more about the company's services, visit their website at http://www.buyrealmarketing.com or contact them at 1-877-435-5955.
About
Buy Real Marketing is owned by Clicking Labs. Clicking Labs is a well-established internet marketing company founded in 2010 by Jean-Patrick Bisson, Diana Quartin and Jonathan Kennedy. The company specializes in driving search marketing and social media traffic, social web app development and conversion optimization. Each product or service specifically helps small/medium website owners increase online visibility and improve online sales.
###