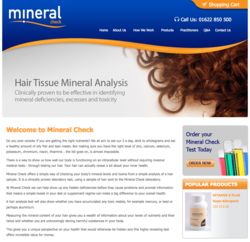 London (PRWEB UK) 9 August 2012
Web design company Graphic Evidence, are delighted to today launch a new e-Commerce website for Mineral Check, a company offering health care laboratory tests and high quality nutritional products.
Through their new website, Mineral Check offers a simple way of checking your body's mineral levels and toxins from a simple analysis of a hair sample. It is a clinically proven laboratory test, using a sample of hair sent to the Mineral Check laboratory.
Mineral Check commissioned graphic designers Graphic Evidence to create a new website for the business, that allowed them to sell their services online and explain and answer questions about the products they offer.
Mineral Check quickly required an eye-catching and informative website that would not only work as a sales portal for the tests and products they offer, but also provide access to their knowledge, experience and practitioner information. Mineral Check works with an independent testing laboratory that specialises in hair tissue analysis. They have been providing laboratory test services for health care providers world-wide since 1984.
The new Mineral Check website features the Graphic Evidence Content Management System (GEMS), which allows them to update their site's information and sales portal themselves. Please view their new website at http://www.mineralcheck.com
Graphic Evidence are a full service creative marketing agency, that specialise in a wide range of design and marketing including, website design and branding.