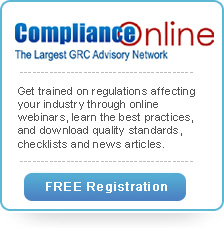 Newark, NJ (PRWEB) August 14, 2012
ComplianceOnline, the leading governance, risk and compliance advisory network, today announced two seminars: Auditing the Human Resource Function and Human Resource Metrics. These full-day in-person seminars, led by renowned HR and labor law expert Marna Hayden, will be held on September 20 and 21, 2012 in Newark, NJ.
The Auditing the Human Resource Function seminar will cover auditing human resources practices for compliance and liability to help identify and correct any areas that may not comply with applicable laws and/or do not comply with company policies.
The seminar on Human Resource Metrics will discuss measurements and ratios that will determine the success of Human Resources' programs and practices.
Attendees have the option of attending either seminar or registering for both days and saving 10% on the registration fee.
For more information or to register for the seminars, please click here.
Marna Hayden has more than 30 years of experience in the field of human resource management and is certified as a Senior Professional in Human Resources (SPHR). She is the Founder and President of Hayden Resources Inc., which provides management and human resources consulting and outsourcing services to small businesses and nonprofits. Hayden Resources Inc. also provides specialized services and training to larger organizations.
In the full day seminar on auditing the HR function, Ms. Hayden will provide an overview of labor laws. She will explain how to set up, access and maintain HR records. Attendees will learn how to: audit employee manuals, formulate and implement codes of conduct, manage payroll and taxes and handle employee relations and communications. This interactive seminar will also cover performance management, salary administration, counseling and discipline procedures and terminations.
The second seminar on HR metrics will teach participants how to target areas for annual goals, use metrics to set and measure goals and how the goals become standards. Attendees will learn how to communicate value through metrics and speak the business language with key partners.
This seminar will be beneficial to: VPs, directors and managers of human resources; employment managers and employee relations professionals; chief talent officers and trainers; HR analysts and HR coordinators and supervisors; HR administrators and auditors.
Date: September 20 and 21, 2012, 9 AM to 5 PM EDT
Venue & Location: Courtyard Newark Liberty International Airport, NJ
Registration Cost: $349 per registration for Day 1; $349 per registration for Day 2; $628.20 for both days
Early bird discounts: For discounts on early registrations, please click here.
Register by phone: Please call our customer service specialists at +1-650-620-3937 or email to customercare@complianceonline.com
For more information on ComplianceOnline or to browse through our trainings, please visit our website.
About ComplianceOnline
ComplianceOnline is a leading provider of regulatory/compliance trainings for companies and professionals in regulated industries. ComplianceOnline has successfully trained over 20,000 professionals from 3,000 companies to comply with the requirements of regulatory agencies. ComplianceOnline is headquartered in Palo Alto, California and can be reached at http://www.complianceonline.com.
For more information please contact:
A Reuben Bernard
Manager of Program Marketing
ComplianceOnline
2600 E Bayshore Rd
Palo Alto CA USA 94303
650-620-3937 phone
650-963-2530 fax
reuben (at) complianceonline (dot) com
http://www.complianceonline.com/
Please forward this press release to colleagues who may want to read it.